Brand new for 2018, i-Top spinning game is set to be one of this year's must have toys for Christmas. Goliath Toys asked us to review this game and we were more than happy to put it through it's paces. Here's what Holly from our team thought: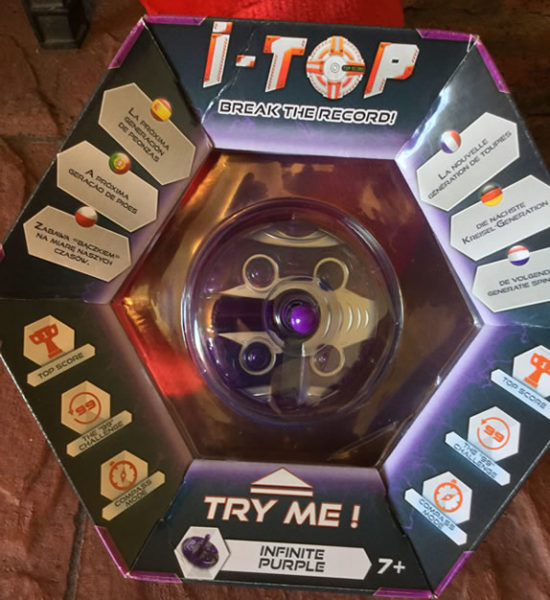 "When I first saw the i-Top spinning electronic game I couldn't help but be reminded of a similar toy like this when I was younger, however it was nothing as hi-tech. When I took it out of the packaging I pulled the tag which activated the spinner and it began to light up with a red light, this stopped after a second or so. Then I placed the i-Top spinner onto a smooth, flat surface and tried to spin.
We earn a commission for products purchase through some links in this article.
BUY I-TOP GAME: AMAZON
It did take me a few attempts to get the spin just right and when I did, it spun around and around counting each spin, showing my score and whether it was hi or low. On my first try I got around 46 spins, not the best score, however after a few practices I got over 146 spins record on the spinner. As the i-Top spins, it also shows what your highest score is so that you can try and beat it, I couldn't stop trying to beat my previous score. I then asked Elaine to take a turn to see if she could beat my score, which she couldn't, although it was close!
We earn a commission for products purchase through some links in this article.
There is also the 99 challenge which saw me quickly pick up the i-Top when it reached 99 spins it then unlocked an animation and I won a star! Every time I spun the electronic spinner the star was shown. I then tried the Compass mode, to activate this I had to spin the i-Top Right, left, right and left again without going over 30 spins it then showed me North, East, South and West, which I felt was a great trick!
Finally there was a Hidden mode. When my spinner reached certain spins the spinner would unlock animations such as Diamonds, Lucky Charm and many more, however I'm not going to say how many spins you need to get before you can unlock these as that's all part of the fun.
Overall I really enjoyed the i-Top, not only is it great to play if your on your own but also with friends and family as it makes you get really competitive, perfect after dinner Christmas game!"
i-Top by Goliath Toys is suitable for ages seven years and up, is available in purple, blue, green and red and can be bought from Amazon UK for £14.99
Please note this post does contain affiliate links but this does not affect your shopping or browsing experience. Prices correct at time of publishing.