Introducing Humax AURA the first Android TV 4K Freeview Play Recorder with built-in Google Assistant, Chromecast, Google Play Store apps and Kids' Zone. Here we review the brand new box.
Please note we were kindly sent this to review however all opinions are our own.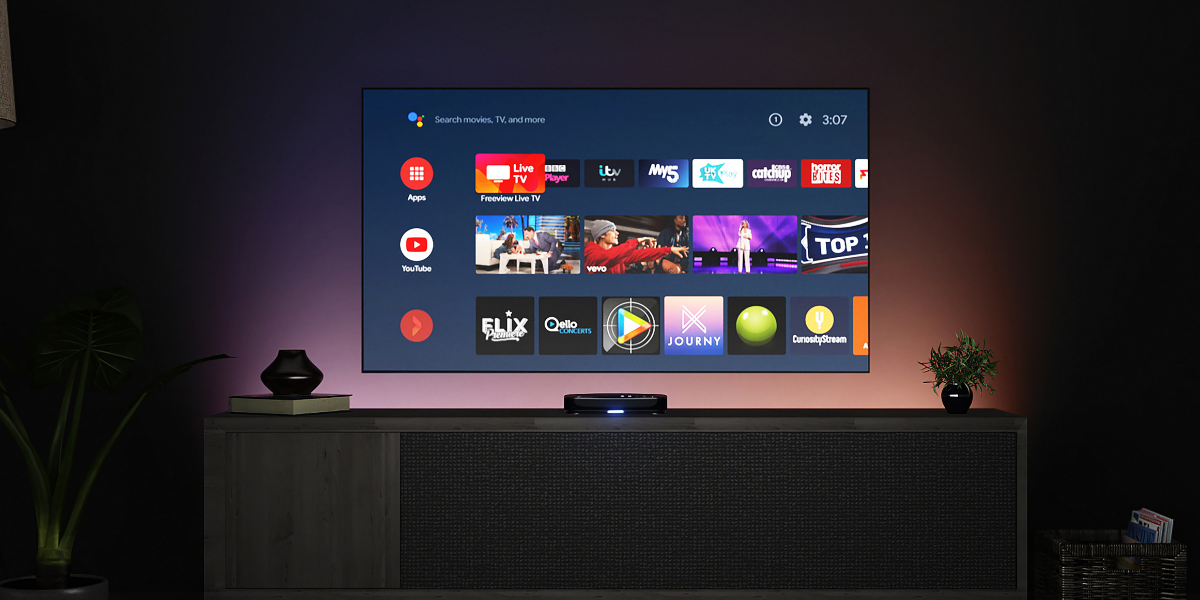 Don't miss your favourite shows ever again as Humax launches is brand new and innovative AURA 4K Android TV Freeview Play Recorder and John from our team think its the best one yet, and here's why.
"Before I get started with all the details on set-up, let's dive straight into the gubbings of Humax AURA and all this little beauty can do. Firstly this is not just your humble freeview box as it's powered by Android TV technology with crystal clear 4K HDR picture quality ensuring you have maximum viewing experience from your TV.
There is built-in voice control via Google Assistant so you can access thousands of apps via the Google Play Store such as Amazon Prime Video and Disney+ . Freeview Play provides 70+ subscription-free channels and 20,000+ hours of on-demand entertainment plus with Chromecast built-in you can stream content from your phones, tablet or laptop to a TV screen and my main highlight from all the features has to be the recordable feature – you can record up to four programme's at once while watching a fifth.
Now that I've covered nearly all the main features, let get started! On opening the AURA 4K box, it had an oval look to it, was smaller than expected and definitely looked smart, perfect as I hate these over-sized ugly looking boxes as all you want to do is hide them away, however that is not the case with the AURA.
Setting up was quick and easy, all I had to do was log in to my Google account (which you can skip) and I had instant access to all of my downloaded apps including YouTube, I was very much impressed that I could move around my app icons to make it easier to access my most used content.
Now there are lots of pre-installed apps plus the ability to download others from the playstore and the Humax Kids' Zone button, which fast tracks you to a family-friendly safe space for younger viewers that want to explore terrestrial TV and on-demand content is also an added bonus, however no Netflix, which for me is the only glitch with this box.
There's also the Humax AURA app, which can be accessed on a mobile device so you can download shows to watch later on the move, ideal if you know you're going to be busy cooking when the next episode of Graham Norton comes on!
Once I had downloaded all of my favourite apps, it was time to put it to tune into a show and put the Humax AURA to the test. Audio was perfect it had a full-bodied and clear sound with no bad echoing and picture quality was outstanding, it was clean, crisp and sharp, the perfect for use in a home cinema system.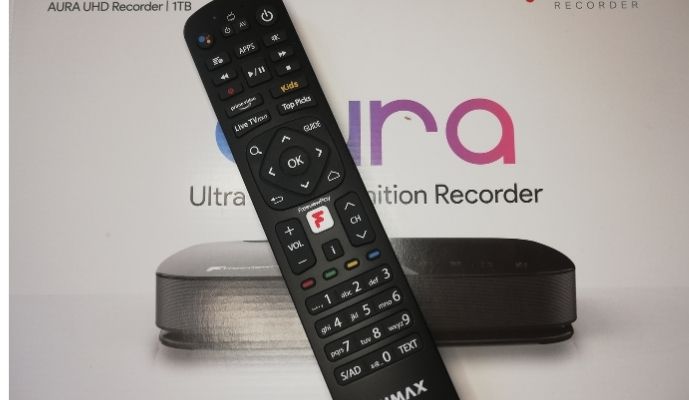 The machine itself is very quiet and hardly makes a noise, I basically never heard a peep from it. As for the remote control, it's very easy to use it even has the added addition of hot buttons such as a dedicated Prime Video button so you can access content faster than ever before. On a side note the keyboard on screen was excellent as it showed both lower and capital letter together so none fo this switching back and forward and making mistakes!
As the Christmas specials start to come around, I find it difficult to fit them all in on time, and to be honest I can't always be bothered watching via on-demand with all the adverts, so the handy recording feature is my most cherished highlight, as the Humax AURA recorder allows me to record 4 shows whilst watching a 5th live, I need never choose between Only Fools and Horses or Michael McIntyre Big Christmas show again!
Overall I can easily say that this is by far the best Humax (and any freeview) box out and if I were a member of SkyQ, I'd probably switch over to this as it had everything you could possibly need without the ongoing expensive subscription, plus if you're looking to spoil the family this would make the ultimate gift before, during and after this Christmas"
Humax AURA: First Android TV 4K Freeview Play Recorder comes with a choice of 1TB or 2TB hard drives. The two options offer 250 and 500 hours of HD capacity, priced at £249 and £279 respectively.
More information on Humax AURA can be found at https://uk.humaxdigital.com