Christmas Eve boxes are one of this year's hottest trends for kids, but what about us adults? We've put together some tips and gift ideas to create your very own Christmas Eve box for adults.

Because everyone deserves a bit of festive fun, even us oldies!
Us adults certainly deserve a treat after a busy few festive weeks leading up to the big day, and what better way than to surprise your better half with their own Christmas Eve box.
Now although typically designed for children that doesn't mean adults too can't enjoy the charming tradition of a Christmas Eve box. From festive PJ's to pre-mixed alcoholic drinks and obviously festive jumpers, it's time to have some fun.
The contents have a little bit more of an adult touch – but come on, it is Christmas.
If you're thinking of making a adult's Christmas Eve box this year, here are some tips and ideas to help you start.
1. You'll need the traditional Christmas Eve Box for the gifts
This stunning Personalised Large Snowflake Christmas Eve Box, £35 Studio.co.uk would do the trick.
BUY NOW personalised solid wood box, £17.49

2. Festive jumper to start the day
Whether you're after a classic Christmas print or a quirky novelty design, festive jumpers are a must on Christmas Eve and this Sequin Santa jumper (M&Co £29.99) is bang on trend.
BUY NOW Sequin Santa Christmas jumper, £29.99
3. Get rockin' around the Christmas tree
CD's such as Christmas: NOW 100 HITS Christmas (£11.99, Amazon.co.uk) or The Nation's Favourite Carols (£9.99, Amazon.co.uk) will guarantee a way to sprinkle some holiday spirit during the day as you prepare the feast!
BUY NOW Christmas: The Collection 2017 Version, £7.40
BUY NOW The Nation's Favourite Carols, £9.99
4. Personalised novelty Christmas mugs & wine glasses
Your very own novelty mug or wine glass to hold your favourite tipple is a must and we simply love this John Lewis & Partners Christmas Pudding Ho Ho Ho Fine China Mug £6
BUY NOW Ho Ho Ho Christmas mug, £6
5. Get in the festive spirit
Miniatures such as Monkey 47 Schwarzwald Dry Gin 5cl Miniature (£10.76) is a great filler for your box especially to help relax after such a busy day.
BUY NOW Monkey 47 Schwarzwald Dry Gin 5cl Miniature, £10.98
6. Settle down with a good book or DVD
DVD's including Home Alone and (£8.99 the hut) The Christmas Colouring Book for adults (£3.79 at Amazon.co.uk) will help you to switch off and stop thinking about those last mince pies!
BUY NOW Home Alone collection, £8.99
BUY NOW The Christmas Colouring Book, £4.49
7. Christmas Eve PJ's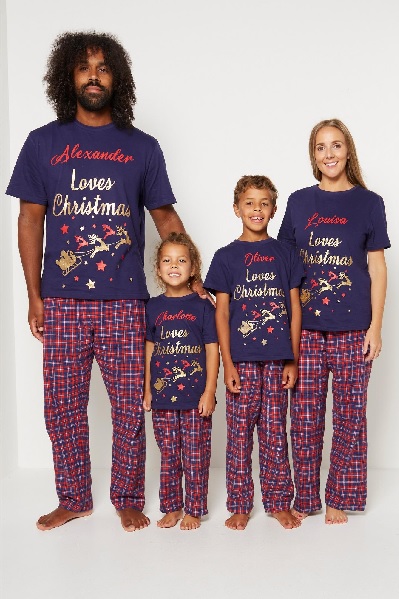 Nothing quite beats slipping into new and comfy pyjamas like these Studio Personalised Loves Christmas Pyjamas (From £8 at Studio) well you do need to get some sleep before Santa arrives.
BUY NOW Matching Family Christmas Pyjama set from £8.00
This special festive tradition will add extra sparkle to an already exciting day.
Next up, Christmas Eve boxes for PETS! and Christmas Eve boxes for children.