Have you taken down all of your Christmas decorations to find the lids on the boxes won't shut and things are getting damaged? No need to worry as we have 5 of the best Christmas storage solutions.
Really Useful Storage Boxes – £22.99 BUY NOW
The 77 Litre Really Useful Box is transparent so you can easily see what is inside and has a lid with clip lock handles to keep the contents safe and secure. This is durable and is a great way to keep all of your decorations in one place.
Studio.co.uk Set of 3 Christmas Light Reels – £11.99 BUY NOW
It can be so frustrating when your trying to put lights away without getting them tangled up and damaged. This set of 3 lights reels is the perfect way to store your lights so they don't get into a mess and can easily be stored away.
Chaseley Extra Tough XXL Christmas Tree Storage Bag – £42.99 BUY NOW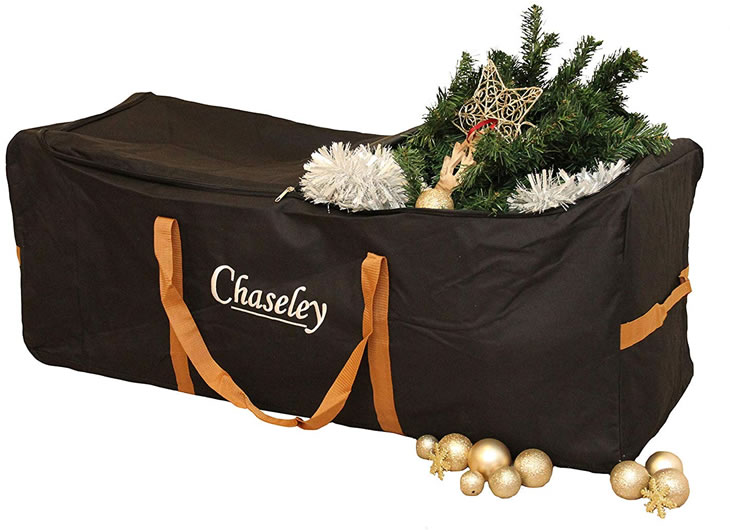 We don't know about you but trying to get a Christmas tree to fit back into it's original box is impossible! We sit for hours trying to press all of the branches back in only to find the box is ready to burst open again. The Chaseley Extra Tough XXL Christmas Tree Storage Bag is large enough to keep your Christmas tree safe and will keep it protected from rain as it is waterproof.
Premium Christmas Bauble Storage Box With Dividers – £27.99 BUY NOW
Do you ever get fed up of baubles getting smashed or broken because they've all been stored in a plastic box which has been moved around less than carefully? Premium Christmas Bauble Storage Box With Dividers is the ideal way to store these away safely, the box even has dividers so they won't hit into each other, ideal for those precious baubles you don't want broken!
ZOBER Premium Christmas Wrapping Paper Storage Bag – £22.99 BUY NOW
Getting Christmas wrapping paper in the sales when it's less than half price is the perfect way to save some money but how do we store them without these ripping? This wrapping paper storage bag can store up to 24 rolls, has wrap organiser box and is made of tear proof fabric, so no need to worry about left over or paper you've bought getting damaged.
We do love a good storage box and these are just the thing we're after!