Are you wondering what trends you'll be decorating your home with this Christmas? UnderTheChristmasTree has stepped behind the magic to find out what one of the UK's BIGGEST stores – Sainsbury's – trends will be this year, in this exclusive Q&A with head of buying & design for Sainsbury's Home, Rona Olds.
Where did you get your inspirations for your Christmas home trends?  "The Christmas trends this year are inspired by creating cosy living spaces in the home, whether it be with the tones and textures of the autumnal countryside, soft shades of cream, white and frost or opulent brushed gold and mirrored finishes for a more glamorous look."
Have you seen trends for Christmas change over time?  "Scandinavian inspired interiors have been very popular over the past few years and this has translated to Christmas decorating trends too. Our Nordic Skies range reflects this contemporary style, combining muted tones, embossed textures and soft accents of colour. Playful characters synonymous with a Nordic winter setting have been designed using tactile materials of wool, glass and wood to decorate the home in a simple and festive colour palette of red, white and grey."
How could we incorporate the Renaissance Boutique theme into our homes?  "The Renaissance Boutique theme references the glamour and grandeur of the 1920s era. Combine the opulent textures and metallic pieces with simple monochrome accessories. Brushed gold and mirrored finishes are fantastic additions to a simple contemporary bathroom or bedroom and instantly enhance the luxury of a space. Create an atmosphere with soft lighting through intricate laser-cut hurricane lamps and our exclusively designed fragrance of Neroli and Amber."
What inspired the Snowdrift theme and what was your ideas behind it?  "The Snowdrift theme introduces the beautiful soft shades of snow into the home without the chill!  Simple yet sophisticated frosted ornaments feature in this design theme alongside playful polar bear objets, silver and glass pieces and stylish faux floral wreaths for a winter wonderland setting. The Snowdrift trend offers chunky knit cushions and sleek faux fur throws perfect for avoiding the cold and curling up in front of a fire."
Fireside and North Pole are always popular trends over the festive period, What is different anout these trends this year?  "Both collections feature hand-painted and illustrated patterns created by the Sainsbury's in-house design studio. These appear across tableware, bedding and home accessories with red berry and mistletoe motifs for a seasonal nod to the upcoming festive season. The North Pole collection captures kids' imaginations and is inspired by the magic and excitement of Christmas featuring jolly elf and Santa characters."
What do you think makes contemporary decor so popular?  "The colour schemes move away from the more traditional colour palette of red and green to incorporate fresh white, metallics and playful accents ideal for contemporary style with a nod to the festive season. Whether you're going for a more decadent, glamorous look with lots of gold and bronze decorations or a chic Scandi setting, these trends are easy to incorporate into the home."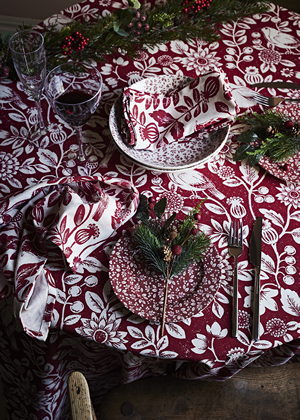 Describe the festivity theme in three words,  "Nostalgic, Cosy, Traditional"
What would be your highllights from the Christmas trends?  "Renaissance Boutique has come together brilliantly.  I love the richness of the green and gold together, its super stylish and the bar accessories are stunning.  Our glasses are so glamorous and are hand etched.  I also love the wine rack it makes a statement in its own right. Another stand out piece for me are the metal tree t light holders in our home accessories range in Nordic Skies  they were designed in house by David Hutcheson they are fabulous, superb quality and unique to Sainsbury's."
What trend will you be doing this year in your home?  "I have just finished decorating my lounge at home so I shall be investing in Nordic Skies home accessories for Christmas time and giving my Christmas tree a makeover.  I love the tree decorations and the rose gold highlights.   I love decorating the house at Christmas and there are so many pieces in the range I have my eye on.  I also want to purchase the marble objects that we have in Renaissance Boutique and I shall be treating guests at Christmas time to cocktails in the etched martini glasses."
Thank-you Rona Olds, head of buying & design for Sainsbury's Home for sharing such amazing insights and wonderful ideas.
Have you chosen a trend for your home this Christmas?  We'd love to hear about it below in our comments box.