Asda has revealed its 2020 Christmas food and drinks range – and it includes a host of festive treats from Vegan turkey joint, Pigs on Fire and Bruce the Brussel Sprout cake, here's everything you'll want to eat.
SPOILER: You're going to want it all!
This year Asda has created a menu and gifting range to satisfy everyone at Christmas.
Whether it's a show-stopping cake centrepiece you're after, party food pieces or a standout centrepiece, it's special festive line-up won't make it hard to fill our stomachs and leave us wanting more.
Here's everything you'll want this Christmas from ASDA…
PARTY
There are a plethora of finger foods to get the party started, with Extra Special Vegan Bao Bun Selection, Vegan 12 piece oriental selection, Mini Corn Dogs, Pigs on Fire and Salmon Mac n Cheese Bite, these little bites of something tasty will certainly hit the spot with your guests.
No buffet table would be complete without a raised pie and this year Asda has pulled a whopper.  Tickle your taste buds with a traditional raised pie layered with British bread pork, chicken breast and pork sage & onion all encased in a hot water crust pastry.
Yum!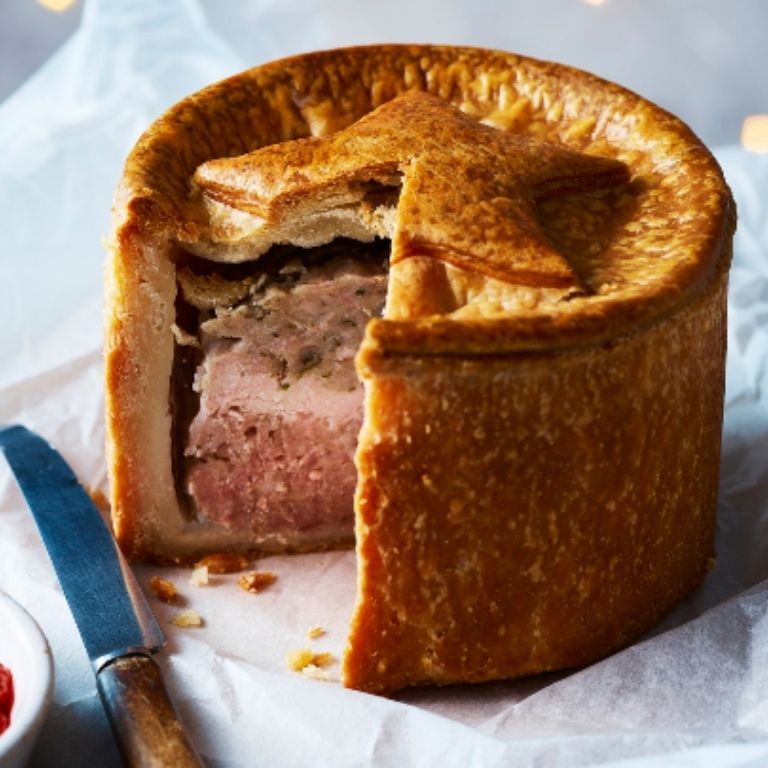 THE MAIN EVENT & TRIMMINGS
Asda is not short of show-stopping WOW moments when it comes to the most important meal of the day, and while the UK Supermarket shelves won't be short of turkeys, it's also introduced new additions including Extra Special Muscovado & Sea Salt Cured Scottish Smoked Salmon, Extra Special British Slow Cooked Beef Shin and a stunning Vegan Turkey Joint with caramelised onion and herb stuffing.
However, if its turkey you want, then the easy to carve boneless turkey centrepiece or Extra Special Turkey Crown in a roasting bag will stand out on your dinner table.
Like last year, pigs in blankets are one of the hot choices for sides and you can choose from the 12 pigs in blankets, a giant pig in blanket sausage roll and for Vegans, the Vegan Spiced Apple Cocktail Sausages will hit the spot.
Highlights also include Cauliflower Cheese with Sweet Potato & Cranberry Wellington, Turkey Wellington stuffed with a pig in blanket centre and Candied Pigs in Blankets with a sachet of spiced sugar to be added before cooking, now if this doesn't scream boxing day indulgence we don't know what does.
HIGHLIGHT: if you're looking for convenience and great prices, if you buy from Asdas great value frozen products you can get your feast for just £15 this includes stuffed turkey joint with streaky bacon, crispy roast potatoes, shredded cabbage, ready to roast parsnips, and pork sage and onion stuffing balls.
DESSERT
Everyone's favourite course, right? and ASDA has certainly not let us down with this lot! From a Chocolate Orange Opera to the brand new bowl dessert which also has cinnamon rolls inside, who needs a spoon, certainly not us!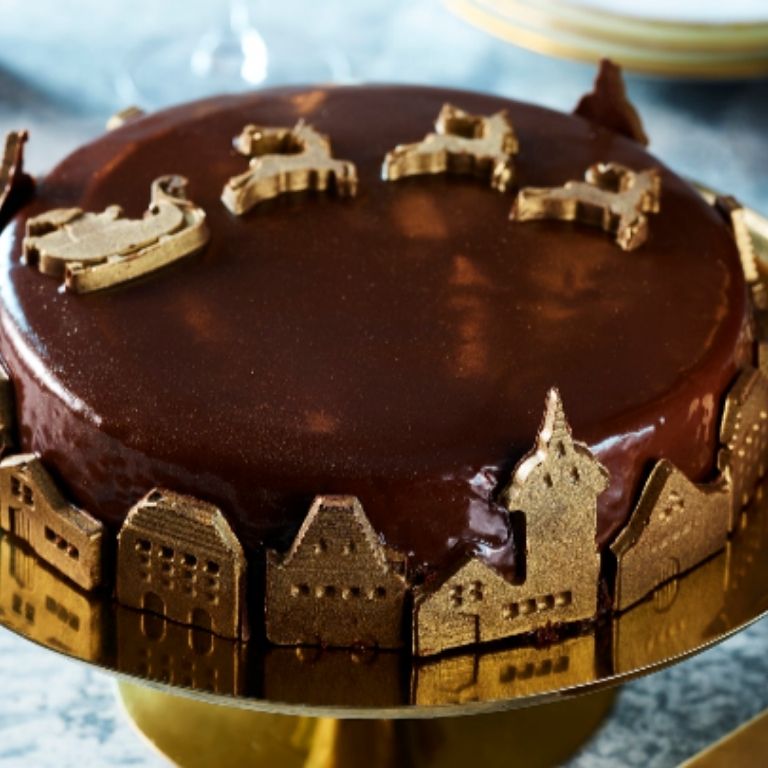 However, if we had to choose just one, it would have to be Bruce the Brussels Sprout Cake which is filled with delicious layers of chocolate sponge and lashings of chocolate frosting, a sprout never sounded so-o good.
CHEESEBOARD
The cheeseboard at Christmas should offer something for every palette, and for 2020 Asda is offering seasonal classics and new additions to its range. Impress your guests with the cheese roulette which includes a ready to make dice and the British Farm House Stack centrepiece.
SNACKS, SWEETS AND CHRISTMAS SPECIALITIES
Can you really call it Christmas when you haven't gobbled a dozen mince pies and washed them down with a bottle of sherry?! So this holiday season you can enjoy one of Asda's many tempting treats including NEW Spiced Clementine Fudge, Sour Cherry Nougat, Vegan & Free From Truffle Assortment, Amaretto Almond and Apricot shortbread also approved by the Vegan Society.
Salted Caramel flavour has stolen the spotlight in this year's food line-up, you can pick from Salted Caramel All Butter Shortbread, Salted Caramel Cookies and Extra Special Salted Caramel Mince Pies.
Festive characters are also popular, with Pip the Penguin making a return in the form of mallows and lollies. Vegan chocolate Reindeer, DIY Reindeer gingerbread Kit and taking over from last years tree-shaped theme – Reindeer Crumpets – we know what we'll be having on Xmas morning.
Highlights for us also include the Music Globe Tin with arctic design which is packed full of mini chocolate chip cookies and Santa and Penguin Wobble Tins which will wobble but never fall over, NEW Wensleydale and cranberry crisps, Cocoa dusted almonds and Rainbow colours candy canes.
DRINKS
Spoil yourself with your favourite festive-themed drinks, back again from last year is Asda's Christmas gin, Mince Pie Gin and Gingerbread Gin. NEW for 2020 will be its Extra Special Pinot Grigio Rose, English Sparkling Wine, Strawberry Laces Gin and for those looking for an alcohol-free alternative you can choose sparkling red and white grape juice and at only 50kcals per serving you can enjoy a glass or four.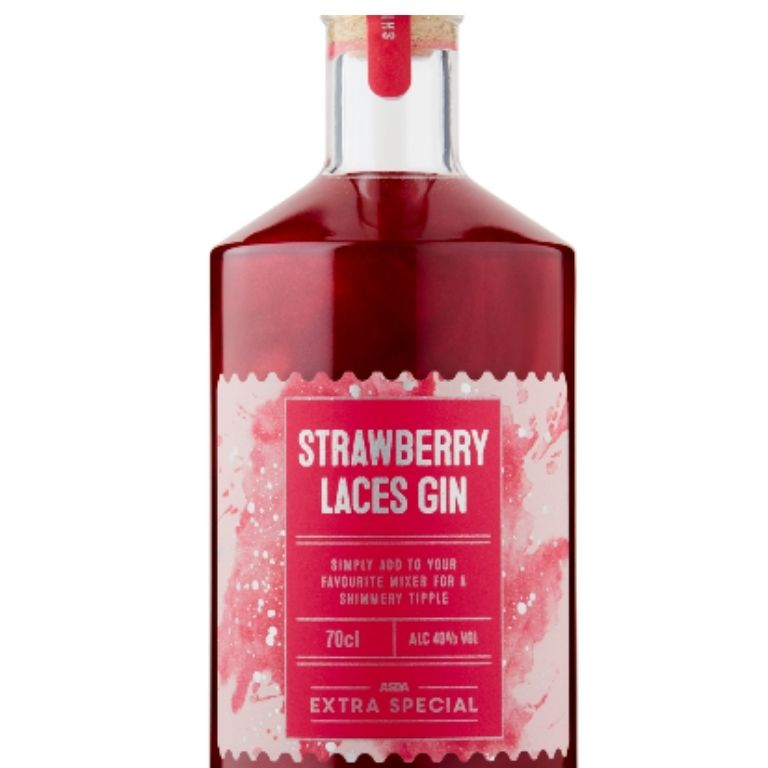 Right, hands up if your belly isn't rumbling now!