Here are 2022's best Christmas centerpiece desserts, tried and tested by UnderTheChristmasTree and yes, they're super indulgent!
We know that a centerpiece dessert can make a true statement. So once again we've gone and done all the "hard" work for you as we've tasted this year's top desserts from some of the UK's leading supermarkets and stores. We were kindly sent these for our taste test.
What do we look for? Simple! a dessert which is indulgent, holds shape, has the WOW factor and of course, tastes divine.
Below are the results of our dessert taste test 2022.
WINNER 10/10 – Sainsbury's Taste The Difference Festive Belgian Chocolate & Clementine Yule Log, £10, Serves 10 – BUY HERE.
The winner of our Christmas dessert goes to this showstopper which we could have eaten all day long. Packed full of flavour, this yule log, dare we say was moist, rich and melted in our mouths. Although covered in rich Belgian chocolate it was well balanced with the zesty clementine curd. The sponge was soft and not dry, as for the frosting we could have eaten tubs of this alone! If you're looking to impress guests this Christmas you need to have this centre stage of your dining table.
SECOND PLACE – Co-Op Irresistible Hand-Finished Chocolate & Orange Wreath Cake, serves 14 – BUY HERE
Living to its name Co-op's wreath cake is simply irresistible. We felt this has a very enjoyable, creamy taste and would go very well with a little sherry on a cold winter's evening. The layers of chocolate sponge are packed with clementine filling and smothered with orange-flavoured milk chocolate ganache buttercream which is not too rich and you probably will want seconds. The baubles are also a treat as these are rice balls which have been covered in a beautiful gold and pink shimmer, all finished off with chocolate curls.
THIRD PLACE – Sainsbury's Taste The Difference Festive Belgian Chocolate & Salted Caramel Wreath, £12, serves 8 – BUY HERE.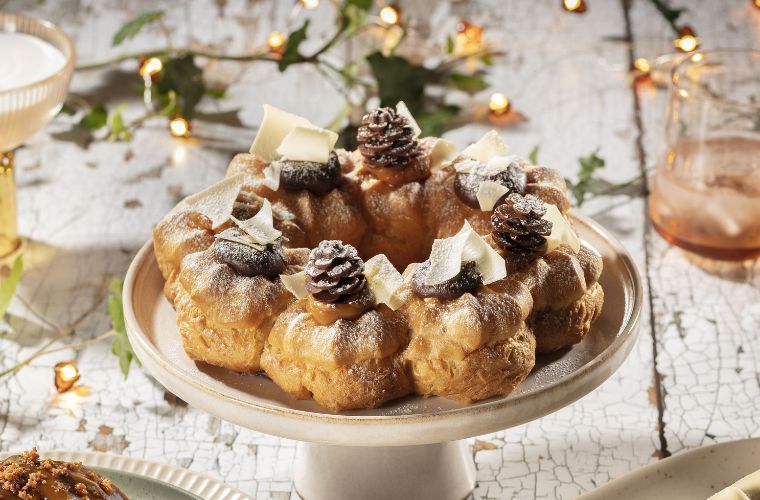 This eight choux buns pud is not your average profiterole dessert and is sure to leave you feeling very satisfied. Each choux bun is filled with salted caramel cream which we felt had a good all-round taste. The buns were very delicate, and airy and had great texture. We were very impressed with the elegant design and its pine cones, chocolate shaving and dusting of sweet icing sugar on top finished the wreath perfectly.
Sainsbury's Taste The Difference Caramelised Biscuit Cake, £15, Serves 12 – BUY HERE
Sweettooth? then you'll love a slice of this ultra-rich caramel AND salted caramel cake. The buttercream is delightful and we felt very sweet, it certainly had a caramel flavour and was undeniably impressive to look at – perfect for when friends come around.
Asda Extra Special Millionaire's Edible Chocolate Bowl – BUY HERE
Christmas wouldn't be Christmas without a little fun for the kids and Asda's Millionaire's Edible Chocolate Bowl ticks all the boxes. We loved the design and the fact the spoons were also made of chocolate was fantastic. Its layers of crunchy digestive biscuit, toffee flavour mousse, sticky toffee sauce and rich chocolate ganache we're rich, smooth and seriously delicious.
There you have it, our official taste test for 2022's best Christmas desserts. As always all opinions are our own. Why not let us know which Xmas dessert has been your favourite so far? View the results of all our taste tests here!