GLOSSYBOX has just revealed it's brand new 2020 'Reason To Be Happy' advent calendar and here's how you can join the waiting list today!
The sell-out advent is back and the waiting list is now open.
Affiliate links have been used throughout this article.
Calling all beauty fans, the GLOSSYBOX Advent Calendar is back for 2020 and if you want to get your hands on one quicker than anyone else then listen up because the waiting list is now open.
Containing 25 beauty treats, worth an impressive £390, subscribers to GLOSSYBOX can pre-order from midday 8th September for just £80, but for non-subscribers, you'll have to wait until 30th September to be able to your hands on one and it will cost £99.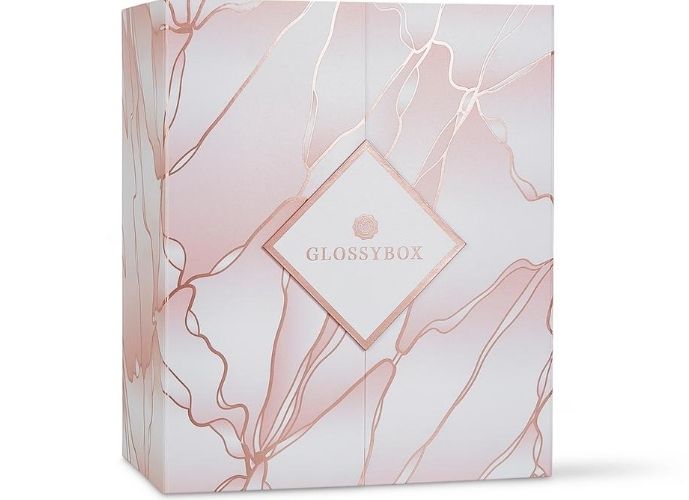 The calendar is a thing of beauty, with a beautiful marble swirl design of glossy pink and metallic gold, it has also been filled to the brim with incredible full-size products and deluxe minis from brands such as Iconic London, Pixi and Huda Beauty.
Francesca Britton, Head of GLOSSYBOX UK & Ireland commented: "We are delighted to finally share the lineup of our 2020 Beauty Advent Calendar! It's always an exciting time of year and we can't wait to see our Glossies reactions to this incredible selection of products. We've worked with some amazing brands this year and we're thrilled to see a few returns as part of our Beauty Advent Calendar. This year will definitely give our Glossies many reasons to be happy!"
Now, if you don't want to know what's behind each door of GLOSSYBOX 2020 Christmas Beauty Advent Calendar then stop reading…NOW!
Below is the full line-up of beauty treats inside:
Brushworks HD Complexion & Contouring Sponge Set – Worth £11.99 – Full-Size
Illamasqua Liquid Eyeliner – Worth £21.00 – Full-Size
Laboratoires Filorga Paris NCEF-REVERSE Supreme Multi-Correction Cream – Worth £10.78 – Deluxe Mini
Pixi Glow Mist – Worth £16.00 – Full-Size
Lime Crime Mini Velvetines Liquid Lipstick – Worth £10.00 – Deluxe Mini
Lee Stafford Hair Apology 10-in-1 Treatment Spray – Worth £11.99 – Full-Size
GLOSSYBOX Skincare 3-in-1 Moisturiser – Worth £18.00 for subscribers & £22.50 – Full-Size
Bubble T Winter Berries Bath Bomb Fizzers – Worth £5.99 – Full-Size
MUA Cosmetics Eyebrow Pencil – Worth £1.50 – Full-Size
Zoeva Screen Queen Highlighting Palette – Worth £15.00 – Full-Size
Frank Body Original Coffee Scrub – Worth £1.40 – Deluxe Mini
Glow Recipe Watermelon Glow Sleeping Mask – Worth £3.93 – Deluxe Mini
Sunday Riley Good Genes Glycolic Acid Treatment – Worth £11.84 – Deluxe Mini
Ecooking Hand Cream – Worth £7.50 – Deluxe Mini
Fenty Beauty by Rihanna Match Stix Shimmer Skinstick – Worth £21.00 – Full-Size
The Body Shop Himalayan Charcoal Purifying Glow Mask – Worth £6.00 – Deluxe Mini
Sleek Makeup Loose Pigment – Worth £5.49 – Full-Size
The Vintage Cosmetic Company Polly Bow Make-up Headband – Worth £6.99 – Full-Size
Huda Beauty Power Bullet Matte Lipstick in Wedding Day – Worth £22.00 – Full-Size
Avant Skincare 3-1 Hyaluron-Filler Collagen Eye Formula – Worth £99.99 – Full-Size
Dermalogica Daily Microfoliant – Worth £13.50 – Deluxe Mini
KVD Vegan Beauty Go Big Or Go Home Mascara Trooper in Black – Worth £5.00 – Deluxe Mini
Nails.Inc Victoria Nail Polish – Worth £15.00 – Full-Size
Iconic London Day to Slay Eyeshadow Palette – Worth £45.00 – Full-Size
READ MOREBoots No7 Beauty Advent Calendar has arrived