KitchenAid stand mixers are a timeless classic, here we review the brand new KitchenAid Pebbled Palm Stand Mixer, sure to be a huge hit among bakers this Christmas which we were kindly sent.

We earn a commission for products purchased through some links in this article.
Katy said: "Baking and cooking is a passion of mine when the festive season comes around, nothing quite says Christmas like homemade cookies and cakes. I love heading back to simple, old recipes where I can create a batch and freeze until nearer the time. When KitchenAid's NEW Pebbled Palm Artisan 4.8L Stand Mixer arrived, I could finally see just what all the fuss is about surrounding these mixers.
With its dark dusky green textured finish, you couldn't get a more Christmas-er appliance than this, it certainly stood out from the rest of my, what seem now, boring utensils.
The KitchenAid Stand Mixer is ready to go out of the box and includes all the fantastic stainless steel accessories you'll need to feel like one of the bakers in the Great British Bake Off, included are: flat beater, dough hook and wire whip.
Once placed on the worktop, I loved just how sturdy the KitchenAid mixer was, perfect for stopping it moving around on kitchen tops when mixing at high speeds. Getting to grips with each of the utensils was a breeze, I felt like Nigella Lawson connecting each one.
Baking my, not so difficult, standard Christmas biscuit recipe, I clipped on the flat beater to cream butter and sugar and beat in egg, to be super honest, it did look far smoother than me doing this by hand, which takes way too long.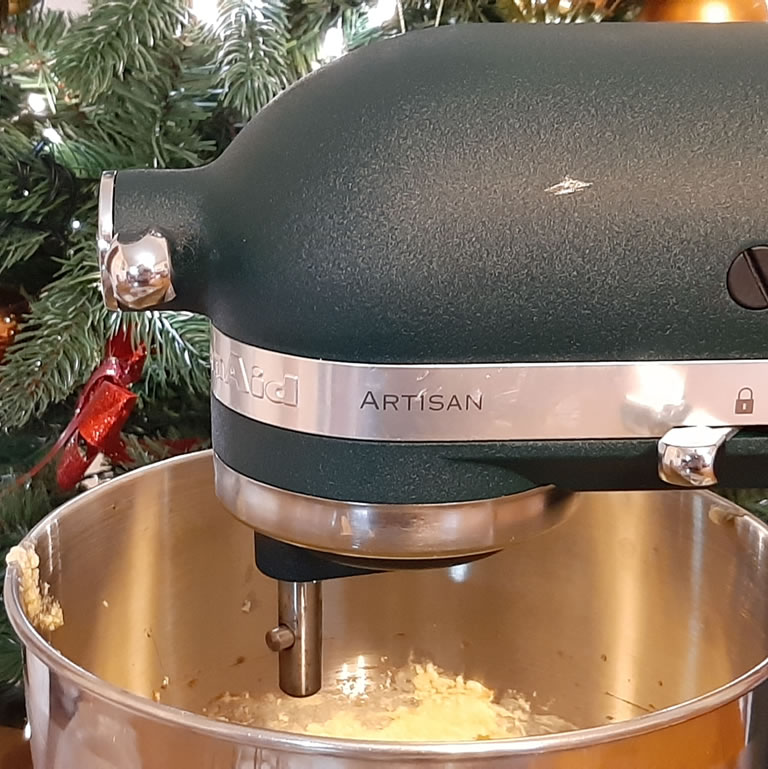 All of my ingredients were well combined and it never once struggled with performance, you can easily tell these stand mixers are idea for combining heavy combinations and cake batters such as Christmas cakes – which is what I'll be baking next.
Also just to add, the bowl is big and can hold a huge amount plus the transparent pouring shield also protects you from any splattering of the annoyance of icing sugar going everywhere!
KitchenAid's NEW Pebbled Palm Artisan 4.8L Stand Mixer is priced at £599, pretty expensive however considering its huge 5 year warranty, sturdy, safe design and the amount of endless creation you can make, this could be the ultimate Christmas present for the star baker in your life".
You can watch as Katy unboxes, test and bake up one of our favourite festive biscuit recipe below:
KitchenAid Pebbled Palm stand mixer will cost £599 and is available from kitchenaid.co.uk