Here, we take a look at our new beast friend from Crate Creatures Surprise – Blizz! After braking into his crate we prepared ourselves for lots of monster-ous fun. We were kindly sent this to review.

Roarin fun this Christmas!
Suitable for age 4 and over, Blizz is one of a collection of four Crate Creatures (Snort Hog, Pudge, Blizz or Sizzle) all of which make funny noises and come with over 40 distinctive and quirky creature sounds. We were sent Blizz to test and try, here's what Elaine thought:
We earn a commission for products purchase through some links in this article.
[pto prices="Crate Creatures Surprise – Blizz"]
"On opening Blizz I can see why children would instantly be drawn to this soft and wacky looking creature. Shut inside his wood effect crate all wrapped up with chain and a padlock which has to be opened using the crowbar located on the side of the box, even I couldn't wait to see what he can do.
Next I got ready to open the crate, again using the crowbar, and prepare to remove Blizz from his crate's spring loaded platform but beware if you don't want to hear monster-ously fun sounds and gross noises then DO NOT pull his tongue, you know exactly what I did….
Ignoring the sound advice and as he sat in his crate with his long red tongue sticking through I gave it a yank and his eyes started to flash as he gurgled some very strange noises and then the shaking rage began.
He looked so cute staring at me with his big green eyes through the bars on his crate that we took pity on him and released him from captivity and then the fun really began! I could hardly wait to hear how he sounded when I spoke to him and he spoke back in his creature voice – surreal!
Flipping this little monster on to his back, he roared with delight and we got the same response when we shook him and knocked him over.
Turned Blizz around I found his battery pack hiding behind a Velcro opening in his white fur and switched it on. Slightly below the Velcro we found his furry tail and when we shook it he started to flap his arms up and down and made gross chomping noises when we fed him his frozen red, white and blue ice lolly treat.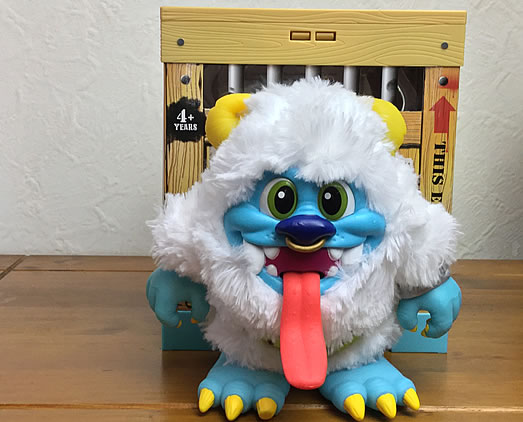 Soon it was time to head back into his crate ready to be unleashed at a moment's notice. Overall I thought Blizz was lovely and soft and the commands are simple to do and the toy responds quickly and correctly making it a great choice for kids this Christmas.
Crate Creatures Surprise: Blizz has a RRP of £39.99 and is available from UK retailers including Amazon
(Affiliate links have been used. All opinions are our own)