Christmas is about celebrating, which is why we tested out Culinary Concepts 'Let's Get Hammered' Pair of Silver Plated Champagne Flutes which make the perfect set for toasting the big day with friends and family.
A Delicate, Classic Way To Enjoy A Glass Of Champagne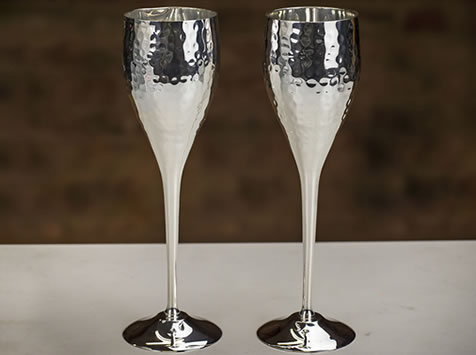 Like many of us up and down the UK, Christmas morning starts with a glass of something bubbly, from champagne, bucks fizz to an alcohol free drink – you need the right set of glasses. We tested Culinary Concepts 'Let's Get Hammered' Silver Plated Champagne Flutes to see if they did the job.
Elaine from our team tried and tested, here's what she thought of the flutes: "Normally I'm never too bothered about what glass I use at Christmas, I never knew what the big deal was about correct glasses?! However after using Culinary Concepts Champagne flutes I'm starting to get a rough idea.
First the gift box they arrive in is very luxurious, on opening I was presented with two very well made silver plated Champagne flutes which certainly had a classic look to them, perfect for special occasions.
Each slender flute has a stunning Silver plated finish to them and really stand out on a table. I personally thought they were a good weight and size and once I had poured my Fizz inside it stayed relatively cool, unlike other glasses I've used before.
Not your average glass as these can also be personalised with laser engraving to make them just that little more special. However they do cost £50 for the pair so buying for a family of 8 can work out pretty expensive (£400!) but worth it for occasions such as Christmas. Overall I think these added a touch of luxury and would make a unique gift for foodies this festive season. I'll be using mine again especially once I buy a few more for my table."
British designers Culinary Concepts have been producing beautiful home, dining and garden giftware since 1999.
The 'Let's Get Hammered' Pair of Silver Plated Champagne Flutes will cost £50 and are available from www.farrar-tanner.co.uk