The breakout star of Incredibles 2 has been brought to life in the form of Incredibles 2 Jack-Jack Attacks doll. See what we thought, what Jack-Jack can do and more.
Everyone's favourite baby superhero is back and this time he has new emerging powers that he wants to show off. The new Interactive Jack-Jack Attacks doll will have fans of the movie re-creating scenes with his laser eyes, sounds and even watch as the infant "explodes" into ultimate power mode.
WE EARN A COMMISSION FOR PRODUCTS PURCHASED THROUGH SOME LINKS IN THIS ARTICLE

We sent John to test and try out this small but mighty superhero, here's what he thought: "I'm like a big kid at heart especially when it comes to Disney Pixar movies, I loved both Incredible movies and if you're a fan like me you'll already know Jack-Jack is the stand out character from the latest one.
So, when Disney Pixar Incredibles 2 – Jack-Jack Attacks Doll was handed over to me I was super impressed to see just how much detail has gone in to it. Firstly the doll looks exactly like the character from the movie, with his big gooey blue eyes, tuft of orange hair and even his red all in one outfit (which can be removed and washed) – they had  Jack-Jack down to a tee.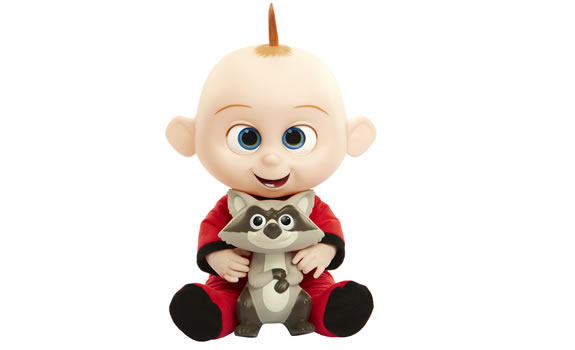 Now moving onto his super powers, the Jack-Jack Attacks toy can do all sorts of sounds and movements including, going into ultimate power mode where – all colours, lights and sounds are activated. As you press Jack-Jacks belly his eye shoots lasers, face turns bright red and sounds of giggling and laughter come from the doll.
What I liked most about this interactive doll was how sturdy Jack-Jack was.  He could easily sit by himself and you can easily move his arms and legs into any position, making the perfect toy for children to take with them anywhere especially if visiting friends or family at Christmas.
The included Racoon was also a nice addition to the toy as it made for a more fun experience as Jack-Jack took on his most epic battle yet – the Backyard Invader! Overall I think this is a great addition to any Incredibles toy collection and hopefully Jack-Jack will get even more super powers in the future.
Watch Katy unboxing and reviewing Jack-Jack- Attacks doll below:
Suitable for ages 3 years and over, Disney Pixar's Jack-Jack Attacks is £39.99 from UK retailers including Argos.