This Christmas you can give your children the puppy they always ask Santa for, well sort of, introducing Hasbro's FurReal Ricky the Trick-Lovin' Pup. Here we put Ricky through his paces to see if he's anything like the real deal. We were kindly sent this to review.

Let's hope we don't have to clean up the poops!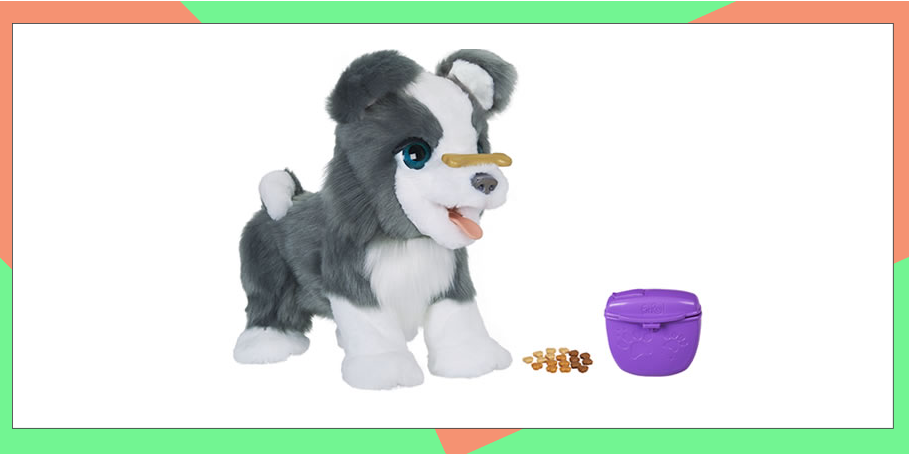 Ricky the Trick-Lovin Pup is here to preform tricks, eat treats and give doggy licks this Christmas. Predicted as John Lewis & Partners 2018's top toys, this animatronic puppy has over 100+ sound and movement combinations including pooping AND catching his bone. Katy put Ricky to the test and here are her thoughts.
We earn a commission for products purchase through some links in this article.
[pto prices="furReal Ricky, the Trick-Lovin' Pup"]
"Hurrah! Hasbro have honestly created a realistic pet which does everything you could possibly want – barks, "talks", does tricks, shake paws, give doggie licks and even poops which are only just some of the reasons I fell in love with Rick the Trick-Lovin' Pup.
For me packaging is one of the key ingredients to a fantastic toy as I want to see everything – the toy, accessories and how to play all within a few seconds of reading.  Hasbro achieves this perfectly, as Ricky sits pride of place in a back garden setting with all his accessories surrounding him plus features are listed across the colourful box so you know exactly what he can do.
Diving straight into the box, Ricky (RRP £134.99) who looks like a border collie was super soft to touch. With fluffy grey and white fur, big doe eyes, soft rubber tongue and even padded paws I couldn't wait to switch him on. Now this toy does require batteries which are NOT included – a little annoying if you forget to buy some however not the end of the world.
Popping in the 4 X C alkaline batteries, the fun loving pup was ready to play. Already he was "talking" to me, I had a pretty good conversation! He tilted his head affectionately, and even shook "paws" with me. Ricky is always ready to preform tricks so I gave him some treats for doing so which he then ended up pooping out – perfect to get the kids laughing.
One of my highlights was Ricky catching his bone, simply place on top of his nose, give a command and watch as he flips it straight into his mouth, I wasn't the only one who got excited, so did Ricky as he started to shuffle his paws.
Overall I'm in love with Hasbro's FurReal Ricky, not only can he do 100+ sounds & movements but he looks, feels and does everything just like a real pup – he's even the same size as a real-life one. Those big eyes and fluffy ears (which also move) will melt the hearts of children and adults around the UK – looks like they really do call it puppy love."
Hasbro FurReal Ricky The Trick-Lovin' Pup is suitable for kids age 4+ and includes: bone toy, 18 doggie treats, treat pouch, and instructions.
Available to order now from Amazon UK and John Lewis & Partners for £99.99.