Morphy Richards Coffee On The Go is the ideal machine when your working or traveling, you can have hot coffee in an instant. We were delighted when Morphy Richards sent us over their Coffee On The Go Filter Coffee Machine and Elaine put it through its paces.
Elaine from our team said: "As a dedicated coff-a-holic I couldn't wait to take what could be my new best friend from its packaging.  I drink lots of coffee at home but get regular withdrawal symptoms through the day as I'm invariably too busy to take time for a filter coffee.
We earn a commission for products purchase through some links in this article.
[pto prices="Morphy Richards 162740 Coffee and Go Filter Coffee Machine"]
To me there's nothing to beat a delicious, hot cup of coffee and the bigger the better, so I was delighted when I was asked for my thoughts on it.
I can't think of anything better than a travel mug with good sized hot filter coffee inside it and this one from Morphy Richards is ticking all the boxes. I was quite impressed with how quickly the 300ml stainless steel travel mug was directly filled and the 1 year guarantee that comes with it, dispelled any doubts I may have had.
Measuring 16 x 13.5 x 23 cm, it's a good size and with no filter papers to buy thanks to the easy to clean permanent filter I really enjoyed not having to head out to my favourite coffee shop for my lunchtime 'fix' and once I'd popped on the lid my favourite hot coffee was ready to go, I simply pressed the on button which went an orange/red colour. The machine was not noisy at all and was compact enough that it could sit anywhere in my kitchen and not look out of place and the coffee stayed nice and hot all day long in the travel mug.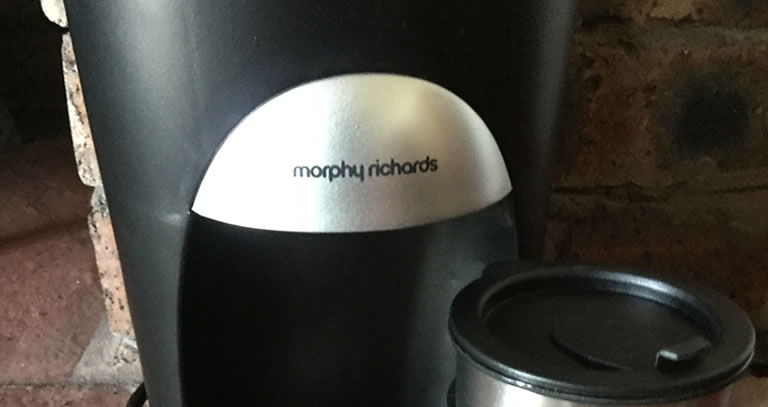 I always seem to be in such a hurry and I'm guilty of forgetting to switch things off but thanks to the auto shut off function it's one less thing I have to think about. Overall I think this is a great machine and as it's priced at just £24.99 it would make a thoughtful Christmas or birthday gift.
Find out more information at Morphy Richards or head on over to Amazon to buy this for £19.99.
This post contains affiliate links.