Tipped to be one of the top toys for Christmas 2018 is the Paw Patrol 6v Battery Operated Marshall Fightin Bubble Blower Fire Truck, which is why we here at UnderTheChristmasTree, when we were sent this to review, we decided to put this toy through it's paces and tell you all about it.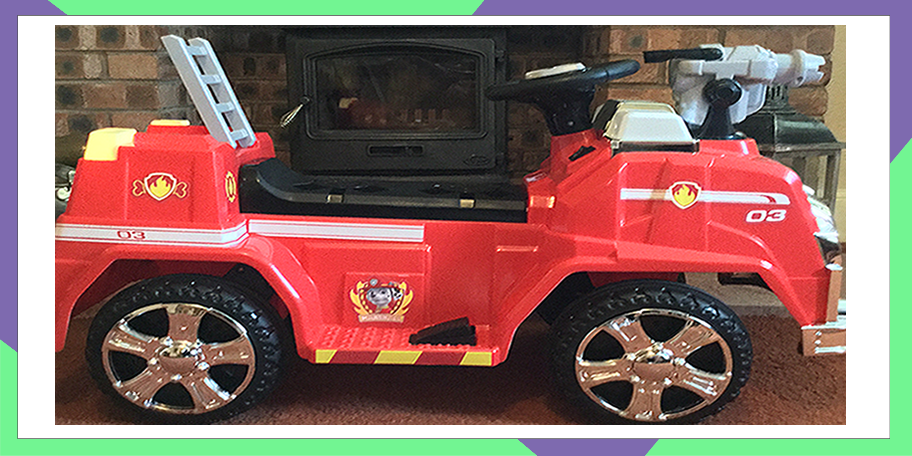 We earn a commission for products purchase through some links in this article.
SHOP MARSHALL FIRETRUCK: VERY.CO.UK
The Paw Patrol 6v Battery Operated Marshall Fightin Bubble Blower Fire Truck is a ride on fire truck which comes complete with a bubble blower. Suitable for ages 3+, this being released on October 1st and we reckon it will be finding it's way under many Christmas tree's this 2018.
This authentic Marshall fire truck features forward and reverse gears, flashing lights and even siren sounds. It also has a Movable ladder and cool bubble machine. The Estimated playtime for the Paw Patrol 6v Battery Operated Marshall Fightin Bubble Blower Fire Truck is 60 minutes.
CONTENTS:
Depth: 39 CM
Height: 52 CM
Width: 88 CM
Age Range: 3+
Assembly: Self Assembly
Warning Message: Warning: Not suitable for children under 3 years
Comes with cool Bubble Blowing machine – extra playtime fun
Forward and reverse gears
Flashing lights and siren
Movable ladder
Authentic Marshall's fire truck features from the show
Easy foot pedal accelerator
Estimated playtime 60 minutes
Built dimensions – L88cm x W39cm x H52cm
Max speed 2km/h
Requires 1 x 6V Rechargeable battery (included)
We sent Holly off to assemble the Paw Patrol Marshall Fightin Bubble Blower Fire Truck and here are her thoughts:
"For starters – this looks SO cool! I wish they had this when I was a kid (Get the Violins out..). It arrived in a huge box and was carefully packaged. Inside the box was the main 'body' of the fire truck and placed round about were the wheels, steering wheel, accessories & assembly instructions.
Now I can't lie. DIY is not my strong point, so this needed to be straight forward to assemble. Thankfully, it was! The instructions are easy to follow and after half an hour or so, this was fully assembled and charging. It's worth noting that you do need a screwdriver to assemble, (It only took me 45 minutes to find one before I started- fail!) but apart from that everything I needed to assemble this was included in the box.
If you're lucky and ask nicely in your wish list, Santa Claus might deliver it a few days early. If so, it might be worthwhile to assemble it a few days before Christmas and have it charged so it's ready to 'go' on Christmas morning. While this is happening (the first charge takes roughly 8 hours), let the fun and games of keeping the kids away commence! It's difficult hiding things from children (and anyone who might be tempted to have a go after a few sherry's!) so perhaps keep the big box to store it in.
Obviously, being an adult, I was unable to ride this, as tempting as it was! However, I did test all of the functions. This is powered with a foot pedal and simple switches on the front. As soon as I pressed on the pedal the ride on started moving forward and I then switched the switch the other way and the machine started to go in reverse. There is also two buttons on either side of the steering wheel which gave the sound of the horn beeping which was pretty loud! On the other side there is a switch so that I could have the siren's going which were again pretty loud and really effective as it sounded like a real siren!
To get the bubbles out I had already attached the bubbles to the bubble dispenser and pressed on the button on the machine. For the initial bubbles to come out I had to press the button for around 30 to 45 seconds and then the bubbles started coming out thick and fast and looked exactly like a fire truck would if it was dispensing water. To bubble machine could also move so I could easily point the bubbles in the direction I wanted them although the UTCT office cats were most amused by them with one trying to chase them. There was also flashing lights at the back which changed in colour and had an included small fire ladder which I could lift up and down on the truck.
The vehicle is sturdy and easy to wash if it gets dirty and you will get roughly 60 minutes of continual use from it until it needs charged again which is easily done using the supplied charger.
Overall I loved the Marshall Fire Truck, I thought it was lots of fun and really would allow kids to use their imaginations!"
Watch our full video demonstration and see the Paw Patrol Marshall Fire Truck in action:
For more information on the Paw Patrol 6v Battery Operated Marshall Fightin' Bubble Blower Fire Truck and to buy, visit Very.co.uk
Please note this post contains affiliate links.