With Christmas firmly on our doorsteps, it's almost time for the little ones to send their wishlists off to Santa Claus. Just in case you want a little sneak peek at what is likely to be on it, let us introduce the Silvercross Dolls collection from Play Like Mum.
We were very lucky to be sent a few pieces from the range, including the Pioneer 5 in 1 Dolls pram, the Simplicity 4 in 1 Dolls High Chair & the Susie Interactive Doll. We thought we'd tell you all about them and share our thoughts.
We earn a commission for products purchase through some links in this article.
SHOP SILVER CROSS COLLECTION: AMAZON
Play Like Mum Silver Cross Pioneer 5 in 1 Dolls Pram is so well made and could have easily mistaken this for a real pram. Suitable for ages 4-8, features of this include:
Forward and rear facing pram carrycot
Converts to a forward or rear facing reclining pushchair
Remove from frame to become a carry cot
Adjustable handle height – 44-76cm
Soft-grip adjustable handles to grow with your child
Handy large shopping basket
Retractable hood and adjustable bumper bar
Swivel front wheels for easy steering
Folds to make for easy storage
Overall dimensions; 80cm High, 61cm depth, 43cm width.
Cot length – 52 centimetres.
Fits doll size up to 46 centimetres.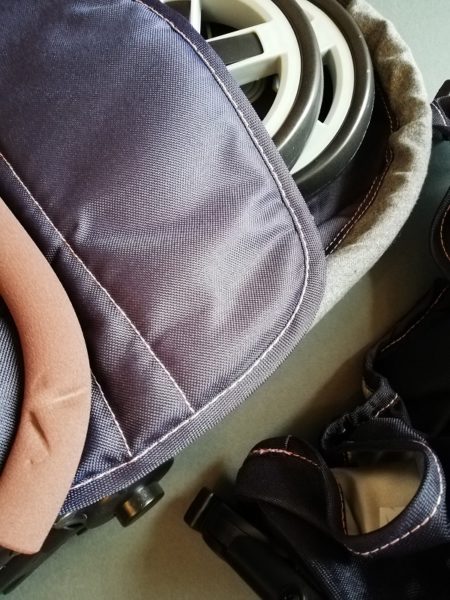 Speaking of the pram, Elaine said:
"This is literally a child's dream! It literally looks like the real thing and will make your little ones feel like they're being like mum! This has a soft fabric and is easily wiped if required. It's ideal that this adjusts to your child's height with it's soft grip handle and is light enough to be pushed, but not so light that a gust of wind would blow it away.
The great thing about this is that it can be folded for storing away – perfect for putting in the car or hiding under your child's bed to save space when it's not being used.
Teamed with a doll (fits up to 46cm), this would make the perfect gift for Christmas and Santa will undoubtedly be getting a lot of Play Like Mum requests this xmas 2018!"
Moving on to the Play Like Mum Silver Cross Simplicity 4 in 1 Dolls High Chair.
This high chair is both a high chair and car seat in one. Suitable for ages 3+, features of this include:
High Chair can be removed from the frame and converted to a car seat
High Chair comes with removable feeding tray and canopy
Car Seat/High Chair seat is compatible with the Pioneer 5 in 1 Pram frame, Sleepover Pram frame and Wave Pram frame
Pioneer 5 in 1 Pram cot, Sleepover Pram cot and Wave Pram cot are compatible with the High Chair frame
Soft-grip handle for easy carrying
Handy large shopping basket
Suitable for dolls up to 43cm in length
Folds to make for easy storage
Overall dimensions; 78cm High, 50cm length, 35cm width.
Seeing as Elaine tried out the pram, we figured we'd ask her to give her thoughts on the high chair as well. Elaine said:
"This again, is so alike the real thing, it's very hard to tell them apart. This is the perfect height (78cm high) so that children can reach the top to place their doll inside. The high chair can be removed from it's frame and converted into a car seat, but it's also nice to remove it from the high chair to place on the floor and let your child play with it.
This is compatible with the Pioneer dolls pram that was mentioned before and is the perfect addition to the collection. This, again is easily wiped clean and has a large shopping basket below. This is ideal – perfect for storing the dolls accessories and any bits and pieces that would normally be easily stood on otherwise. Little ones will love the Play Like Mum High chair!"
Finally, lets take a look at the Play Like Mum Silver Cross Susie Interactive Doll.
Susie the interactive doll is the perfect addition to the Pioneer 5 in 1 Dolls Pram as she recognises it, she will giggle, cry and even snore. Suitable for 3+, features of the Play Like Mum Silver Cross Susie Interactive Doll include:
Susie® can recognise her own pram when the included sensor is put into the pocket on the underside of the Silver Cross 5 in 1 Pioneer dolls pram (available separately)
She will tell you she wants to go for a walk when she is close to her pram and cry and want to go back in it if you take her out
Listen to her snore when she falls asleep in her pram
Encourages role play and interaction
Susie® is an interactive doll who can giggle, cry and talk
Susie® can be fed with her bottle and she will tell you if she has had enough or wants more
Susie® sometimes gets tummy ache which can be rubbed better and likes to be tickled under her arms
Again, Elaine was the lucky one to put Susie through her paces. Elaine said:
"Susie is extremely life-like and looks like the perfect addition to the family (with much less mess and no 3am feeds!). Susie is quite light which is ideal for children to carry.
Again, much like the highchair mentioned, Susie is compatible with the Pioneer 5 in 1 Dolls Pram. Included with Susie is a sensor which should be placed on the inside of the pocket of the Pioneer 5 in 1 Pram which is on the underside. It's a small pocket which fits the sensor perfectly.
Once this is placed inside, Susie starts to interact with the Pioneer Pram. When placed inside the pram, she will start to giggle, will cry and will even fall asleep (you can hear her snore!) it's true what they say about never waking a sleeping baby however, as if she is lifted out of her pram, will begin to cry until she is placed back inside.
The only gripes I have about Susie is that she can be quite loud and batteries are not included. With that said, Susie is different to the other dolls we've tested out here and because the range is compatible with each other, it's likely that all three products will be popular requests with Santa this Christmas 2018″.
For more information and to buy the Play Like Mum Silver Cross range, visit the Play Like Mum website.