It's time to head to Poplar and become a Midwife with the new board game based on the popular TV series on BBC. We were kindly sent Call The Midwife board game to review, here's what we thought.
When the new board game arrived in the office, we were all excited to play it as we love Call The Midwife. So Holly, Katy, Elaine and Mandy all volunteered to play this game.
We earn a commission for products purchase through some links in this article.
Amazon, £24.99 BUY NOW
The aim of the game was to be the Midwife to deliver the most babies. So we each choose our Midwife character which were Nurse Lucille Anderson, Nurse Trixie Franklin, Nurse Valerie Dyer and Nurse Phyllis Crane.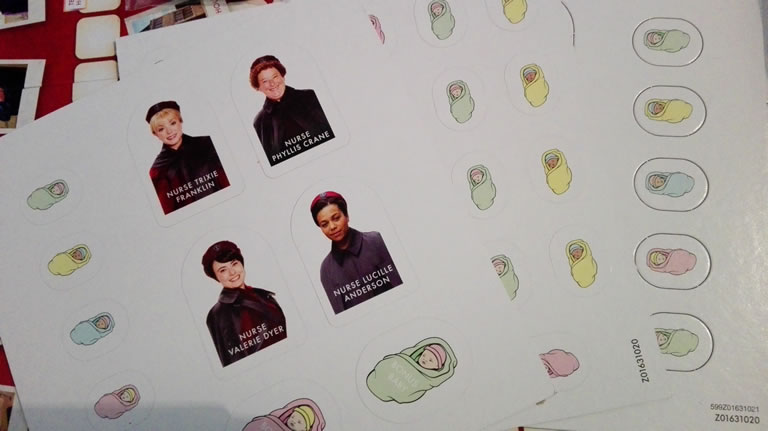 After we did this, we placed the Delivery cards on the board, shuffled Nonnatus Cards and placed these on the board and finally placed the 33 Baby Tokens on the pram on the board. Each of us then started at Nonnatus House, picked one Delivery Card each and rolled the dice to see who rolled the highest which was Katy – so she got to go first.
The Delivery Card had the location that we needed to get to, these are all colour coded which really helped. Each of us also had to say "Nonnatus House, Midwife speaking" on our turn. When we reached our delivery locations we could collect a Baby Token and had to make our way back to Nonnatus House. We also had to say " Nonnatus House, Midwife Speaking!" when were arrived back.
There was also a Nonnatus Card, when we landed on this the player had to pick up a Nonnatus Card and follow the instructions given by the Nuns at Nonnatus House. Holly landed on this and had to advance to Dr. Turners surgery. The winner of the game was Elaine who managed to collect the most Baby Tokens and made her way back to Nonnatus House first where she collected a further token as a bonus.
Overall, we were impressed with the Call The Midwife Board Game and can see us all playing this after dinner on Christmas day."
Call The Midwife The Board Game requires a minimum of two players and a maximum of four, is suitable for ages 8 years plus and takes around 30 minutes to 1 hour to play.
Find out more information about this game and buy over at Rachel Lowe for £24.99.