Recreate awesome Toy Story adventures with the Imaginext® Toy Story Buzz Lightyear Robot. We were kindly sent this to review, here's what Elaine from our team thought.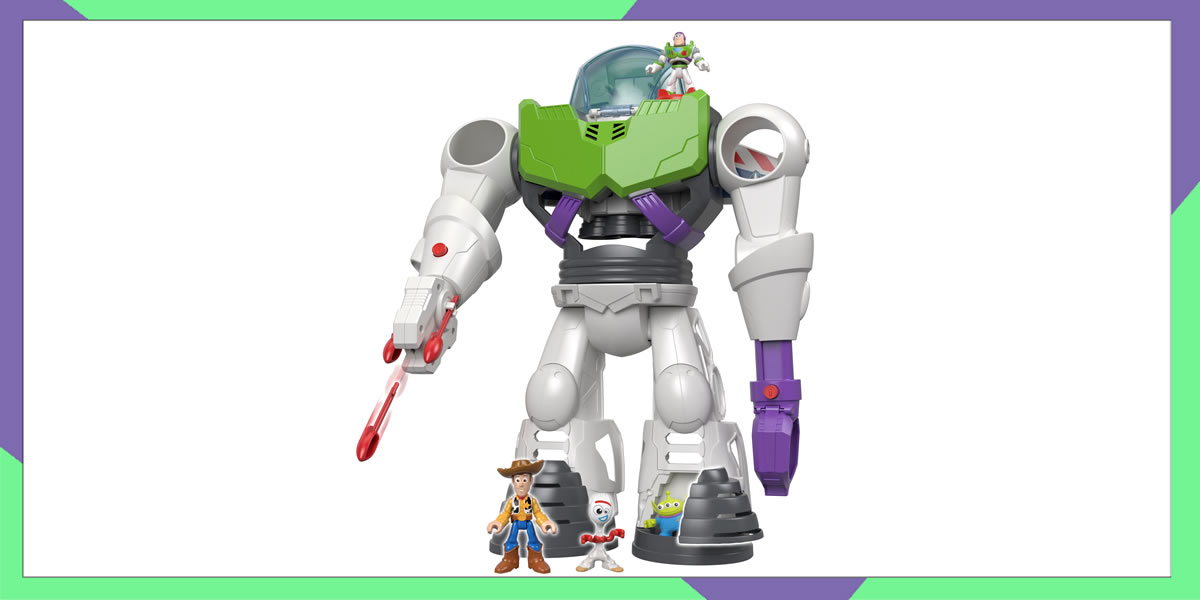 "When the Toy Story Buzz Lightyear Robot arrived in the office, I was instantly impressed with the detail and all of the cool features this toy has. The first thing, which I have to say I loved, was the fact that no batteries were required! Included in the set is a Buzz Lightyear, space alien, removable spaceship and 3 projectiles, so it was just a case of placing these into the robot.
We earn a commission for products purchase through some links in this article.
Amazon, £43.90 BUY NOW
[pto prices="Imaginext Toy Story 4 Set"]
I placed Buzz Lightyear into the red launch pad and tuned the Power Pad to open the wings, which locked into place easily. After that I loaded the right arm with the projectiles and pressed the red button to start launching these. These did go quite far and could take on Zurg if needed.
On the left arm is a claw to pick up villains, so I tried this with the alien which grabbed easily and didn't drop the alien or become loose. There was also a secret jail to put any villains that Buzz meets along the way.
I could also place Buzz Lightyear into the spaceship cockpit and remove the spaceship separately from the robot, this was easy to do and kids wouldn't have any trouble releasing this from the Buzz robot. I did like this feature as it meant that kids could take this to their friends houses or to families houses if they're travelling over Christmas.
Overall I really liked this toy, it was packed full of features and really encouraged children to use their imagination as they go on adventures with Buzz Lightyear."
Imaginext® Toy Story Buzz Lightyear Robot can be bought online from Amazon here and is suitable for ages 3 years and up.