It's inevitable that at Christmas time, the weather takes a turn for the worse, and subsequently everything ends up a lot muddier! Rather than curse the Wintery Weather, our friends at Karcher have come up with a life saver. Enter the Karcher 0C3 Portable Washer. We were kindly sent this to review.

When Karcher asked if we wanted to review their 0C3 Portable Washer, we were more than happy to oblige!
First off, a bit about the product itself.
The 0C3 Portable Washer is portable and can easily be taken with you in the car should you be travelling. The handy device allows you to powerwash on the go. Weighing in at just 3KG's means you can freshen up your footwear after a muddy beach dog walk, or rinse your bike or car after driving through muddy puddles.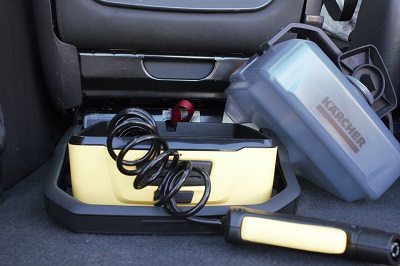 The Karcher is equally useful for rinsing prams, buggies or wheelchairs after muddy journeys. Not to mention it's also ideal for rinsing your wellies after running your outdoor Christmas decorations! (We experience this problem all too often!)
The 0C3 is easy to store in your car boot, with a 4 litre water tank and a 5 bar pressure. When you're finished, the spray gun and hose stores away easily and tidily, with extra accessory kits available for efficient and thorough cleaning of bikes, pets and outdoor equipment. You can thank us later.
Here's what we thought!
John said:
"Scotland is known for many things – beautiful scenery, History and…erm… rain! To really put my fully loaded and ready Karcher 0C3 to the test, I went for a drive through the Scottish Countryside on a wet and miserable day.
The Moffat Hills are close to UTCT HQ and are always a pleasure to drive through, even on a wet Monday morning. I decided to don my wellington boots and take a little stroll – Umbrella in tow – and got myself good and muddy for testing out the Karcher Portable Washer.
I headed back to the car after a good half hour or so and decided to quickly rinse my wellies before I placed them back into the car. I opened the boot of the car and started the washer where I sprayed the boots and wrapped them in an old towel to dry. It literally took seconds to do and took roughly a minute to stow away again.
The hose and spray are quite powerful – more powerful than I expected, so the water does go quite far. By the time I'd gotten back to UTCT HQ, the rain had pretty much stopped so I decided to rinse the car – I could easily have washed the entire car a couple of times over with the amount of water in there – a small amount goes a long way and again, the area was clean in seconds.
Overall, this is a life saver, particularly if you live in the countryside! I'll definitely be packing this in the car throughout the Winter!"
What do you think of Karcher 0C3 Portable Washer? Comment below and let us know or share using the social media icon buttons below.