Sparkle this Christmas with a gorgeous ring from FIYAH Jewellery, here we review the stunning Adjustable Plume Ring and Adjustable Birthstone Ring.
We all know that giving a unique piece of jewellery as a gift at Christmas shows your loved ones just how much you care, however, finding the right piece which fits perfectly and makes a statement can be hard to come by, here Katy from our team shares her thoughts on FIYAH Jewellery new Adjustable rings and why these should be top of your lists when picking key pieces for the festive season.
"I'm pretty picky when it comes to jewellery at Christmas, especially if I'm buying as a gift for friends or family. Questions constantly run through your head – will it fit, will it be too bulky or not sparkly enough – it can seem practically impossible!
This is why I wanted to the person who reviews FIYAH's adjustable rings, firstly let me just point a couple of highlights, delivery was fast, the packaging is gorgeous and there's also a lovely angel poem included in the gift bag – instantly I felt this was more personal than just a plain box with a ring stuck inside.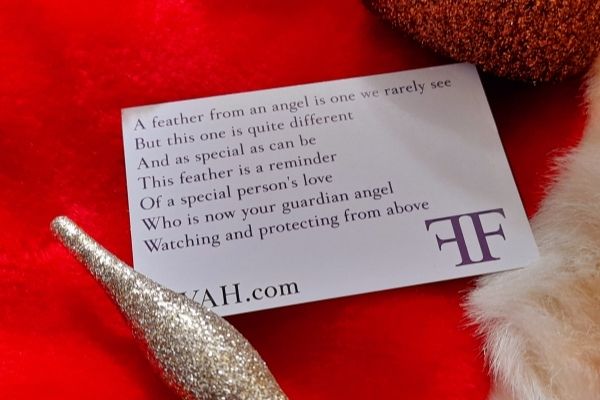 Opening the black box, which has the FIYAH logo on the front, the Adjustable Plume Ring was nestled deep inside on a velvet base. Its angel feature design which according to the website is to help awareness and belief that angels are always nearby, supporting our choices in life, looked so pretty and I couldn't wait to try it on.
As the brand has a focus on adjustable rings, I was sceptical that the Plume ring could fit any finger however, much to my delight I tried on all fingers and it wrapped around each perfectly.
Made from Sterling silver and coated in pure silver, (or gold or rose gold if you choose a different colour) the ring didn't move around or fall off and to be honest, at £49 I'm already adding one of these to my Christmas gifting order for my cousin.
Final thoughts – True to picture, delicate and one I'll be wearing on every occasion.
Moving onto the Adjustable Feather Birthstone Ring which is only £6 dearer than the Plume ring (£55) this arrived in a slightly more luxurious box and was hand-tied with a deep purple ribbon.
As the ring was unveiled, my eyes lit up! straight away I noticed the September birthstone (Sapphire) staring right up at me. Not only does it have the angle feature design on one side, but the Sapphire Swarovski crystal birthstone was also embedded in the ring giving it that extra sparkle.
Again, this ring is adjustable and like the Plume version, I had no issues getting this to slide onto any of my fingers. The ring really does give a WOW factor, and glistens when the light hits it, I was even more impressed when my sister asked where I got this as she wanted to give this to a friend for a special birthday, what she didn't notice as I was wearing a September birthstone when my birthday is in October!
Final thoughts – Unique, gorgeous and such a personal ring that it would make one heck of a Christmas gift."
You can purchase both FIYAH Adjustable rings from fiyah.com