Firebox has just launched spreadable pornstar martini marmalade, what better way to start Christmas morning than with a dollop of this on your toast or pancakes.
It contains actual VODKA!
We earn a commission for products purchase through some links in this article.
Let's face it there's nothing better than a boozy breakfast at Christmas but if a Bellini or Bloody Mary doesn't quite cut it, Firebox has just the thing – Spreadable Pornstar Martini Marmalade.
Adding to the already alcohol-filled spreadable range, the vegan marmalade contains passion fruit puree, juicy nonages and a fiery twist of actual vodka – don't worry though as its all burned off during the cooking process – booo!
Caitlin Parry, Head of Product Development at Firebox.com said: 'Marmalade is the unsung hero of breakfast time, so we're aiming to bring this zesty spread back from the dead.
'We've given it a tantalising makeover, infused it with booze and added a steamy aphrodisiac in the form of passionfruit. It's unlike anything you've ever had on morning toast before. This cheeky concoction contains no alcohol, as it's all cooked off during the creation process, so you don't have to worry about drunkenly stumbling through the door into work at 9am."
At the moment, the marmalade is selling for £9.99, alongside some other boozy spreads – including spreadable Gin and Spreadable Whisky, which goes great with cheese & crackers.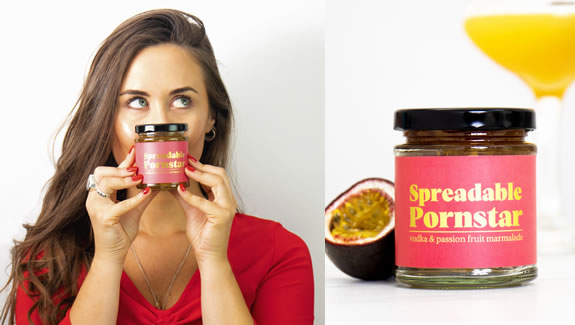 So if you know someone who likes a good tipple at Christmas these would make the ideal secret Santa or stocking stuffer.
Please note affiliate links have been used on this post.