Get ready to create a bright, bold look this festive season as John Lewis' Christmas buyer, Dan Cooper tells us it's all about colour with Rainbow being the retailers key theme for 2018.
Let's experiment and be adventurous with colour this Christmas.
We earn a commission for products purchase through some links in this article.
1. How and when did you start your career at John Lewis?
I started at Heelas (now John Lewis Reading) in 1996, working in the Dress Fabrics department. My job was to sell paper patterns, about which I knew nothing! My big break came when I was promoted to trainee in the Christmas Shop and then manager of Gift Food. Little did I know that years later I'd be Christmas Buyer."
2. What is the biggest Christmas trend for 2018?
The biggest overall trend for Christmas is colour, this year we have embraced all things colourful to create our signature in-house trend, Rainbow. This trend embodies positivity and inclusiveness encouraging customers to experiment and be adventurous with colour. It also makes decorating the home a simpler task as decorations old and new can be pulled together to create a confident and vivid look."
3. Where does your inspiration come from?
"It is a real team effort, ideas are sparked from fashion trends, buying trips, consumer demands–we've even been inspired by a pair of beautiful earrings! There are very few rules with Christmas and because we develop our own product, working directly with suppliers means that we can achieve almost anything. When time permits, I push myself to read books and design blogs and visit new places,these often give me the seeds which grow in to new ideas."
4. Where does your interest in design stem from?
"I have been designing gardens since I was 11 and it is still a passion of mine now. My forte at school was textile art and I still have several quilts, embroideries and tapestries that I worked on then. I am a keen knitter, the more complex the pattern the better, but don't have much time for it nowadays."
5. What is your favourite piece this year?
My favourite theme has to be the Sapphire and within it, the Jellyfish bauble. It is truly unique and can't be found anywhere other than John Lewis. Its playful look appeals to all ages and shows just how adventurous customers are now being with Christmas decorations."
6. What are your top decorating tips?
"Always decorate to suit the room, think about the space available and don't try to squeeze a big tree into a small space, there are plenty of streamline options available. Choose decorations that complement the current room décor and in similar tones to existing cushions, rugs and ornaments to create a look that really belongs."
7. Are you working on next Christmas yet?
"We work on Christmas all year round, although September to April are generally the busiest months. By the end of November we have pretty much sourced everything for the following year. Straight after Christmas we make our final decision on our range and place orders with suppliers. The rest of the year is about delivering the experience for our customers, in store and online."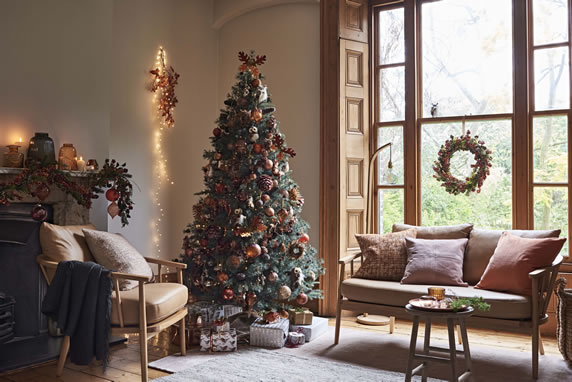 You can shop current John Lewis Christmas offers right now with the new collections hitting stores soon.