Morrisons is the next grocery giant to showcase their brand new Christmas range and it looks oh so tasty! Here are some of the highlights: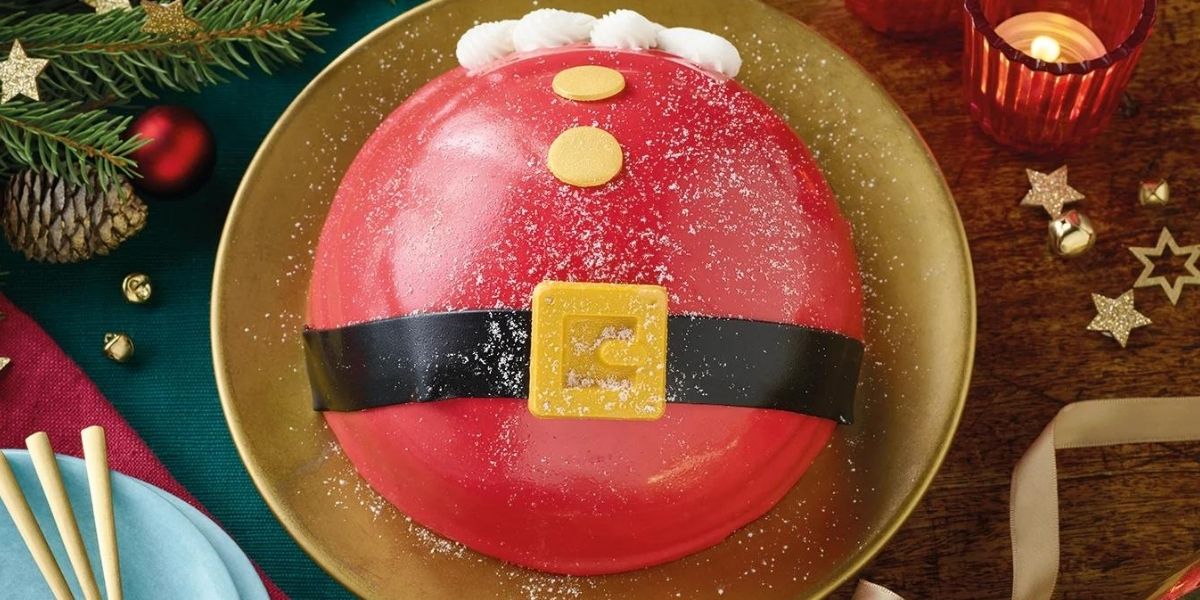 STARTERS:
The Best Best Sloe Gin Baking Brie

– £5 SHOP NOW
Baking Brie from Normandy with dried cranberries, and a sour cherry & sloe gin glaze. This will be available from Novemeber 17th and will cost £5. Aldi has also announced a Baking Camembert with Sprout Pesto!
Morrisons The Best Triple Smoked Salmon Dressed with Orange Oil

– £4 SHOP NOW
This Scottish Salmon has smoked three times over oak wood and cask chippings in Morrisons own kilns in Grimsby to develop a rich flavour and buttery texture, then marinaded with orange juice and clementine oil and garnished with a dried orange slice for a festive twist.
The Best Oven Roasted Mushroom Vegan Pate

– £4 SHOP NOW
An indulgent plant based mushroom pate made with oven roasted mushrooms, vegan alternative soft cheese, vegan alternative cream and enhanced with garlic, parsley, thyme, porcini mushrooms and smoked paprika. Available from 21st December.
MAINS:
The Best Spiced Rum & Blackberry Glazed Gammon

– £10 SHOP NOW
Sweetcured British gammon joint with a gluten free blackberry, spice & rum glaze. Available from 29th November.
Vegan Roast Joint with Herb & Onion Stuffing

– £5 SHOP NOW
Succulent soya joint encases a centre of Caramelised Onion, Parsley, Sage, Thyme Stuffing. Hand topped with paprika gluten-free bread crumbs and a bay leaf. Available 21st December.
DESSERTS:
The Best Salted Caramel Choux Stack

– £8 SHOP NOW
Three layers of crisp choux pastry, filled with a rich and buttery salted caramel sauce and lashings of whipped British salted caramel cream. Generously topped with Belgian chocolate ganache and hand piped salted caramel sauce. Finished with crunchy honeycomb pieces and a light dusting of gold sparkle. Available from 4th October.
The Best Billionaires Cheesecake – £10 SHOP NOW

Luxuriously rich Belgian chocolate sponge, layered with caramel and finished with crunchy honeycomb pieces and a dark chocolate glaze. Available from 6th December.
The Best Vegan Strawberry Trifle

– £5 SHOP NOW
A first to market, this trifle is 100% vegan. Taking inspiration from a Christmas classic, layers of strawberry compote have been topped with sponge cubes, Madagascan vanilla dairy and egg-free custard and dairy free cream. Finished with gold sparkle for an extra special touch.Acailable from 21st December.
FOR SHARING:
The Best Vegetable Tempura Nests With Sweet Chilli Dip

– £4 SHOP NOW
The Best Pork Taco Cups

– £5 SHOP NOW
Packed full of flavour and these dainty bites do just that. Made using British Pork blended with Smoky Chipotle paste, Roast Garlic, smoked Paprika and coriander. The spicy taco cups deliver a real chilli kick and crispy texture. The succulent meaty pork meatballs are well seasoned with a meaty juicy texture and topped with a rich and smoky tomato salsa that compliments the meatballs perfectly. Available from 15th November.
SIDES:
Morrisons The Best Apple & Cranberry Parcels Wrapped In Bacon

– £3 SHOP NOW
Gluten free pork, apple and cranberry sausage meat wrapped in smoked bacon. Available from 29th November.
No-Pigs In Blankets

– £2.50 SHOP NOW
SWEET TREATS:
Santa Belly Cake

– £12 SHOP NOW
Soft madeira sponge, filled with raspberry jam and buttercream, covered with soft icing and decorated by hand with an edible belt, buckle and buttons. Available from 6th December.
Reindeer Cake

– £6 SHOP NOW
Chocolate sponge cake filled with a chocolate buttercream and covered with milk chocolate stars and edible decorations. Available from 6th December. Morrisons is the latest to release a reindeer cake and will be joining ASDA's Roddy The Reindeer cake!
Morrisons is the latest grocer to release their brand new Christmas range for 2021 and joins Tesco, ASDA, Waitrose & Parters and ALDI. Christmas never looked so tasty!