Searching for the ultimate Christmas gift for the whole family? Then check out what we thought of Yamaha P125 from Yamaha Music London.
Yamaha Music London sent us this to review, however, all opinions are our own. Here is what John from our team thought:
"I remember as a child playing the original keyboard, where you had pre-recorded sounds and to be honest I was more like Ross from Friends – only I could tell my "real" potential, which is why I was extremely delighted (and excited) when the P-125 Digital Piano from Yamaha Music London arrived at UTCT HQ.
We can all remember John Lewis 2018 Christmas advert 'The Boy and the Piano' where it showed how Elton John's piano was 'more than just a gift' and I've got to say, Yamaha's P-125 certainly is! Firstly the look is seriously impressive, very sleek, modern and probably the best looking piano I've seen, plus it was packaged to perfection to ensure it didn't get damaged during transit.
So some cool facts about the Piano first, it has a 2-way speaker system to give an incredible piano sound in both upward and downward directions, basically it will create a rich sound like you're sitting in front of an acoustic piano. It has a new Table EQ feature where even if you play on a hard, flat surface you'll still get the best possible sound, plus its new Smart Pianist app will allow you to control many functions including via your smartphone and tablet, it really is the smartest Piano out.
Moving on to Design: The case of the P-125 is very modern, compact and relatively lightweight, perfect for at home use. The piano is made from plastic and has a crisp matte white finish (a black version of the P-125 is also available) – high quality you would expect from Yamaha. There are 88 keys and 14 grey function soft touch buttons, a volume slider so you can gradually change the volume and headphone jacks.
Setting up is pretty standard and wouldn't take anyone long at all, ideal for Christmas morning before chaos ensues, plus you don't need a specific stand you can easily place the portable piano on a table. It's fully weighted keyboard uses graded hammer system for the feel of a traditional piano, I personally felt the keys were soft to touch, easy to press and (depending on how hard or soft I pressed) the sound was excellent.
Every element of the P-125 from Yamaha Music London has been designed for maximum performance including sound as it uses high-quality Pure CF Sound engine. There are 21 demo songs and 50 piano songs to get stuck into and four playing modes: Dual, Split and Duo, a huge step up from the original keyboard I used to play!
Once I started playing, please note I am just a beginner and "trying" to learn from scratch, I was very impressed with the quality of the Yamaha P-125 digital piano, in fact, I've already recommended it to a few other friends who are looking to take on a challenge with their children especially as we're spending much more time at home.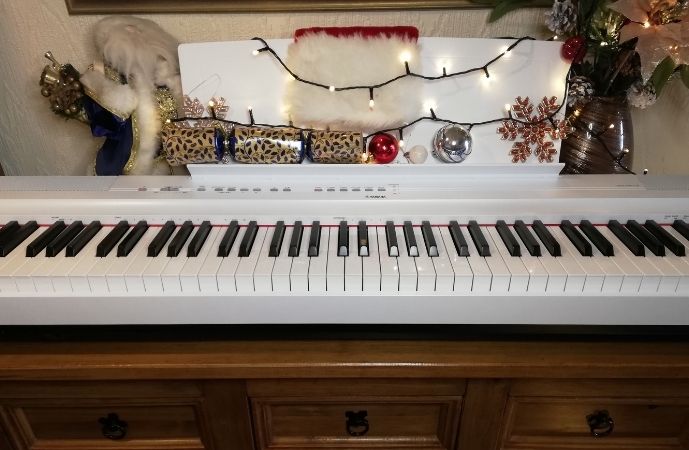 This is without a doubt one of the best Christmas gift ideas around, as this would be one that the whole family could get use from and is a great investment for beginners who are trying something new. Overall, the Piano is elegant, impressive, hugely modern and will make you feel (and sound) like a pro."
Yamaha P125 from Yamaha Music London is available to purchase for £558.00 and it comes in two colours: White & Black. You can also buy other accessories such as L-125 Digital Piano Stand and HPH-150 Headphones.