At Christmas time we all enjoy a tipple or two, so we've rounded up the best spirits and liqueurs for you to enjoy over the festive period. We were kindly sent these for our roundup.
Tesco Finest Highland Single Malt Scotch Whisky, £23 BUY HERE

Created in the Highlands of Scotland, this 12 year old malt has been aged in American Oak casks and gives citrus, fruits and hints of marzipan throughout.
John said: "I do enjoy a glass of single malt whisky and I have to say this Tesco Finest Single Malt whisky did not disappoint. I could taste the citrus fruit but this was balanced up nicely with the hints of marizpan and chocolate, plus it was aged in an American cask which gave a really nice oak finish. I would have this again, it was smooth and easy to drink and would be ideal with cheese and roasted cashew nuts."
Aldi Infusionist 23ct Carat Gold Flake Clementine Gin Liqueur, £13.99 BUY HERE
A fresh Clementine Gin liqueur with a light up bottle and 23 ct Gold Flake throughout. Elaine said: "I really do love the light up bottles I think they look so impressive, I sometimes even save the bottle just so I can reuse it because it lights up. I loved the look and feel of the Infusionist 23ct Carat Gold Flake Clementine Gin Liqueur, I think the bottle itself is elegent , has a lovely design on the front and the gold left is just an extra special finishing touch. I poured some of the gin into a glass and I could smell the Clementine the minute I started to pour and to taste was the ideal balance of both sweet and a long refreshing feel. This gin would make a delicious bucks fizz and would be great with canapes or to have with your Christmas morning breakfast.
Aldi Haysmith's Blood Orange & Wild Berry Gin, £14.99 BUY HERE
A zesty blood orange which adds some sweetness to this gin while the berry brings a balance of flavour throughtout. Elaine said: "I do love it when the winter editions of spirits are released, they are just so refreshing and tasty. Haysmith's Blood Orange & Wild Berry Gin is absolutley delicious, I could taste the orange and berry throughtout but this was not overpowering in taste or scent and had a nice fresh feel and to it and did leave quite a refreshing taste. I would pair this with a fruit salad, some Christmas pudding or even to have with a mince pie."
EDI Spirited Euphoria, £39.99 BUY HERE
Relax with this dry, fresh spirit which is distilled from real help but contails zero alcohol. Katy said: "In a time where we're all trying to lower our alcohol intake, EDI brought out a spirit which is made from real hemp, contains no more than the legal limit of 1mg of THC and is non-alcohol so I was keen to give it a try. When I first poured this into my glass it has a cloudy sort of colour to it and it doesn't smell overpowering, I tried a little but on it's own and I really enjoyed the taste. I could taste the hemp with a fresh citrus taste but this also had a bitterness to it which was really tasty. I added in some lemon & lime flavoured water and it really gave the EDI Spirited Euphoria a whole new taste, and I did feel relaxed and the next day I didn't feel like I had any effects like I might get if I had alcohol and I would definitley include this into my lifestyle. I would pair this with a seafood dish or a fruit salad."
Beluga Noble Russian Vodka, £36.95 BUY HERE
Clean and crisp with a little grain flavour, this is a smooth and subtle vodka.
Katy said: "I like trying different vodka's so when I first tried Beluga Vodka I was highly impressed with its smooth and subtle texture and flavour. I tried this on it's own and and with some soda water and both were equally as nice and I think this might be my new favourite vodka."
El Rayo Reposado Tequila, £37.95 BUY HERE
Notes of spices, cinnamon, fresh herbs and bitter orange.
Mandy said: "Now this is one drink that I can say will give a nice warmth on a cold Winter's night. The tequilla is a light golden colour and I could taste hints of vanilla and cinnamon which was such as lovely taste but it wasn't overly sweet and was balanced up nicely with fresh herbs. I tried this with some tonic and I have to say it was absultley delicious, I would never have put these two together but it worked perfectly."
Aldi Ballycastle White Chocolate Cream, £6.99 BUY HERE
A luxurious creamy blend of double cream, white chocolate flavours and alcohol. Mandy said: "I'm a big fan of Ballycastle and loved the original flavour and couldn't wait to the the new white chocolate edition. When I first poured this into my glass I could smell the white chocolate and cream and it looked silky smooth. The taste was amazing, it wasn't overly sweet and had the perfect balance of white chocolate, cream and alcohol and it was really smooth to drink. This would make the perfect welcome drink or a little night cap."
Liberation Cocktails, From £28.80- For Six Cans BUY HERE
Get your favourite cocktails straight to your door in a can including Pornstar Martini, Espresso Martini Pisco Sour, Gin Garden and Strawberry Daquiri.
Elaine said: "I do enjoy a cocktail but sometimes when I'm in a rush and I'm having friends or family over, it can be such a hassel getting cocktails ready. These Liberation Cocktails were the ideal solution, each of the cans are pre-mixed and ready to drink, all you have to do is give them a shake and there ready to go. My favourite flavour was the Espresso Martini, it had the perfect balance as all the flavours did and there was no
mess."
Tesco Finest 10 Year Old Tawny Port 75Cl Bottle, £12 BUY HERE
With dried fruit and butterscotch characters, this 10 year old Port is perfect as an after dinner drink or to enjoy with a charcuterie board.
Katy said: "Having Port at Christmas is a must and this Tesco Tawny Port is ideal. I could taste the rich fruit and butterscotch notes but this was balanced up nicely with an oaky taste as this had been aged in handcrafted oak barrels for 10 years.
Aldi Haysmith's Oriental Spiced London Dry Gin, £13.99 BUY HERE
With notes of cardamon, cinnamon, spices and herbs, this is a twist on the classic London Dry Gin. Mandy said: "I've tried a few London Dry Gins but I have to say I really enjoyed the flavours of this Oriental Spiced Gin. It had everything I would expect from a gin, it is smooth to try, crisp and zesty but with the added cinnamon and other spices this gave a warm but also refreshing drink. I tried this with tonic and ice and I absolutley loved it. I would pair this with smoked salmon or with a prawn cocktail starter.
Ramsbury Single Estate Vodka, £33.50 BUY HERE
A rich and smooth vodka, made with Horatio wheat to give a vanilla and buttery finish.
Mandy said: "I have tried a few different Ramsbery drinks before and I have not had one yet that I didn't like, so when the Estate Vodka arrived, I couldn't wait to try it. First I liked the bottle, it makes the vodka look like it is going to be blue when poured but it is clear in colour. Trying this on it's own I couldn't belive just how smooth this vodka was and it had hints of vanilla throughout which give a subtle sweetness to it. Ramsbury Single Estate Vodka would be great with seafood such as smoked salmon or if your vegetarian a potato based dish."
Diplomático Reserva Exclusiva, £36.95 BUY HERE
A dark, golden rum, distilled from molasses for up to 12 years.
John said: "I don't normally drink dark rum but I was intrigued not only because I like trying out new drinks but I really liked to look and feel of the bottle, it had quite an old fashioned look to it. I poured this into a glass and it is fairly dark in colour and I could smell the fruity flavours and also notes of toffee which gave it a sweet taste. I could also taste hints of coffee which balanced out some of the sweetness and had a hint of spice when I finished drinking this which was smooth and silky."
Aldi Ballycastle Chocolate Clementine Cream, £6.99 BUY HERE
A smooth, luxurious Chocolate Clementine Cream liqueur is rich and indulgent. Mandy said: "Aldi have done it again with this new Ballycastle Chocolate Clementine Cream, it is just so delicious and more-ish. The chocolate with the clementine flavour is just so good, it is smooth and velvety and is just everything that I enjoy in a liqueur drink. It is not overloy sweet and the orange is the right amount throughout, it's like drinking a liquid Terry's Chocolate Orange but with alcohol, perfect! I will pair this with a party susan with pretzels & nuts or with poured over some ice cream."
Jack Daniels Single Barrel Select, £43.99 BUY HERE
Bottled at 94-proof, Jack Daniels Single Barrel Select has notes of caramel, spice and fruity notes. Elaine said: "I love Jack Daniels, I've tried quite a few of from the range and couldn't wait to give the Single Barrel Select a try.
When I first poured this I could smell the sweet, fruity notes which I really enjoy in Jack Daniels, although it isn't overly sweet as there are some spices throughout, I could taste an herbs with a little oak flavour throughout. It is 47% ABV so a little does go quite a long way! I would pair this with a cheese board, mixed nuts or even next to your mince pie on Christmas Eve!
Ramsberry Single Estate London Dry Gin, £33.50 BUY HERE
Distilled in a copper still using Horatio wheat, this Gin has a classic twist on a classic London dry gin.
Elaine said: "Gin is so popular and there are lots of different kinds and flavours out there to try but sometimes I do enjoy a London Dry Gin. I have to say Ramsberry Single Estate Gin had everything that I enjoy in a gin, it is crisp, full bodied and had floral notes such as juniper and had a zesty, citrus freshness. I tried this with tonic and added in a a slice or two of lemon and ice and it was the most perfectly, refreshing drink that I have had in a while. I would recommend having this a salad starter or perhaps with soft cheeses such as Ricotta or a goats cheese."
Giffard CREME DE MURE Blackberry Liqueur, £14 BUY HERE



This 16% Liqueur screams winter! with its deep and rich purple berry colour this would make the ultimate bramble cocktail this festive season. John said: "If you're hosting a party this festive season, grab youself a bottle of Giffard's Blackberry Liqueur, it is perfect for cocktail making as it does pack a punch and taste's gorgous, very much like jam, I also liked adding it in to my mulled wine for an up-to-date twist."
Aldi

Infusionist 23 Carat Gold Flake Blackberry Gin Liqueu

r, £13.99 BUY HERE
A beautiful light up bottle at just the press of a button, filled with a refreshing Blackberry Gold Gin inside. Katy said: "Firstly the bottle si just so impressive, at the just the press of a button it will light up and pressing the button twice, it will begin to start flashing which is very impressive. The gin itself was packed full of flavour, I could taste the berries throughout and also hints of juniper and a slight black pepper after taste which was gorgeous and the gold leaf really gave an extra special look to the gin. I would pair this with
DECORRUM Spiced Rum, £29.99 BUY HERE

Looking for Christmas in a bottle? Decorrum Spiced ticks all the boxes. Packed with festive spices and flavours such as ginger, rhubarb, cinnamon, clove, and orange peel, you're not going to want the bottle to end, Elaine said: "I LOVED the design of the bottle, very art-deco but what I loved more was the taste, it put a warm glow in me from head to toe, you can really taste the sweet vanilla and spiced cinnamon, I'll be adding this to my Christmas cake!"
Cove Vodka Devon Potato Vodka, £39.50 BUY HERE
Handcrafted in an atrisian distiliery using the finest ingredients for a smooth and luxurious taste, what more could you ask for this Christmas? Cove Vodka is 40% so will hit the spot nicely and uses only the best King Edward Potatos to make, Katy said: "Vodka is a goto for any Christmas event, wether cocktails or just with a mixer you need the right Vodka which is why we choose Cove Vodka as one of our favourites for 2021. Its single distiled vodka taste so smooth and creamy and leaves you with a fresh and clean taste plus its not full of calorie – bonus I can have more than two, or three…"
Slane Irish Whiskey, £24.99 BUY HERE
Matured in a trio of casks including virgin oak, seasoned and Sherry casks, this Irish whiskey is sweet with a light finish. Katy said: "I do enjoy a little bit of whiskey, especially on a cold Winter's night and I was looking forward to giving Slane Irish whiskey a try. I poured some into a glass with a little ice and I was really impressed with the flavours and taste. I could instantly taste hints of toffee, caramel with a little orange which I thought worked very well together.
There was also a light peppery finish and was very smooth to drink, one of the main things I liked was that it was quite light and didn't leave an unpleasent after taste. I would pair this with oakcakes and cheese or smoked salmon canapes.
Co-Op Five Times Distilled London Dry Gin, £17.50 BUY HERE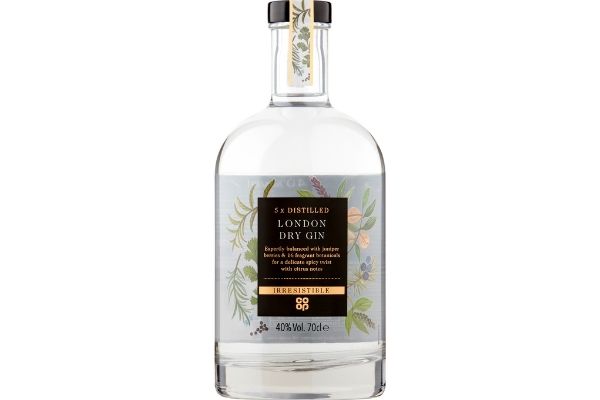 Five times distilled, 15 fragrant botanicals and 40% is why we picked Co-Op's London Dry Gin as one of our best spirits for Christmas 2021. Mandy said: "I always keen to try new Gin's and this is one of my now new favoruites. Not only is it FIVE times distilled it has stunning delicate notes spice and citrus which I felt were not overpowering and left me with a clean refrshing drink. To be honest some other gin's which cost over £40 wouldn't even touch this."
Slingsby Blackberry Premium Gin, £30 BUY HERE

Slingsby Blackberry Gin is crafted with the award-winning London Dry Gin base and infused with Yorkshire blackberries to give a smooth, sweet tasting gin, John said: "Another fantastic Gin from Slingby, you'll be suprised at just how rich and delicious this is. With hints of violet and notes of indulgent blackberry jam, this would make those who love mixing and creating their own cocktails at home even more special"
Aldi Ballycastle Mint Chocolate Cream, BUY HERE
A rich chocolate cream Ballycastle with reshfreshing mint flavour throughout. Katy said: "I love mint, whether that's ice cream or a mint flavoured hot chocolate I always choose it as my flavour of choice and I couldn't wait to try the new Ballycastle Mint Chocolate Cream. The minute I opened the bottle I could smell the chocolate mint flavour which smelled even better when I poured this into my glass. The mint was not overpowering but just enough to make sure it wasn't overly sweet with the chocolate cream and it was very smooth to drink, I absolutley loved it and will be getting another bottle! I would have this as an after dinner or add a splash into a hot chocolate for a boozy twist."
Slingsby Fruit Experience Box, £15 BUY HERE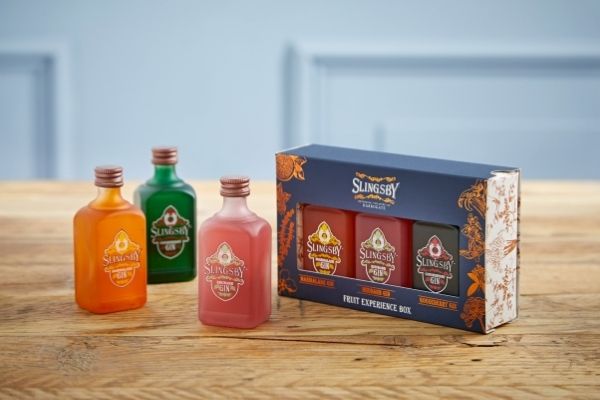 Featuring three of its most lucious and must-have gins: Marmalade, Rhubarb and Gooseberry this is the ideal stocking filler for any gin lovers. The Team tasted each and said: "Without a doubt, if you love gin, then get yourself one of these gift packs, the Marmalde taste exactly like a jar of old-fashioned citrus marmalde and even has a little bite to it, Ruhbarb gin is sweet which will warm you from the inside out and the Gooseberry flavour is sharp, fruity and for us served best with a dash of lemonde."
Well if you're looking for something festive to alongside these Christmas spirits why not check out our official 2021 Christmas Taste Test winners, you'll be suprised at the results.