For 2021, John Lewis & Partners has unveiled its top Christmas decorating trends inspired British scenery, both urban and rural, think magical forests to babbling rivers. Here we preview the festive collection.
A first look at John Lewis' seven key Christmas themes for 2021 – and some top decoration ideas.
John Lewis' latest Christmas collections have all been influenced by British scenery and the idea of bringing the outdoors we've enjoyed so much indoors. Creating a collection packed full of vibrant colours and unique pieces this year's trends are sure to blow you away.
"We offer a celebration of British scenery this year, both urban and rural, and have done so with a generous dose of magic and whimsy to inspire our customers. We look forward to ringing in the most anticipated Christmas with everyone, as we make festive moments and create cherished memories," said the Christmas buyer for the store Jason Billings-Cray.
Already the UK retailer announced its top toys for Christmas and now it's time to focus on home decor and hosting.
Here, we take a first look at John Lewis & Partners key Christmas themes for 2021 – and some top decoration ideas.
SNOW MOUNTAIN – Inspired by the Scottish Highlands, its mountain wildlife and the dramatic snowy landscapes.
OUR PICK: We just love this Glitter House bauble.
BUY NOW Snow Mountain Glitter House Bauble £7
GEMSTONE FOREST – Rich colours have been used to create a fun and magical fairytale-like landscape.
OUR PICK: The pink Hummingbird would nestle nicely in or tree.
BUY NOW Gemstone Forest Hummingbird £6
LUXE CITY – A contemporary theme, with a fashion-forward colour palette it plays on the geometry found in towering buildings and the warm glow of city lights.
OUR PICK: Who wouldn't want champers at Christmas!
BUY NOW Luxe City Champagne Bucket Bauble, Gold £7
COPPER RIVER – This look is inspired by the river's natural stream of flowing water and its wildlife such as trout, otters and kingfishers. A stunning mixture of copper colours creates a beautiful scene.
OUR PICK: We adore this Squirrel; room decoration.
BUY NOW Copper River Tapestry Squirrel Room Dec £12
BLUSH COAST – The blush tones and sea blues capture the coast at the magical moment just after the sun has set.
OUR PICK: Who wouldn't want this whale room decoration to take centre stage?…
BUY NOW Blush Coast Whale Decoration, Pink £150
TECHNICOLOUR SUPERNATURE – This is pure escapism with a big pinch of fun and optimism that is predicted to be a huge hit with children this year.
OUR PICK: He's just so funky and cute!
BUY NOW Technicolour Supernature Monster Bauble, £8
FESTIVE FIELD – Inspired by pastoral landscapes this look is bursting with hedgerow creatures and homegrown produce. The palette consists of festive reds and gold with life brought into this traditional look with plenty of green in the form of foliage.
OUR PICK: The traditional Santa bauble is a must-have!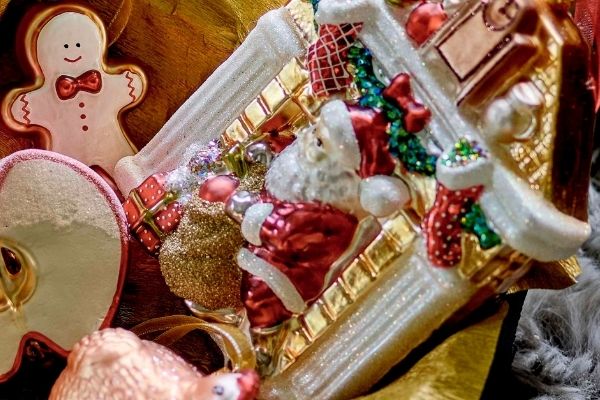 BUY NOW Festive Field Santa Fireplace Bauble, £50
Last year, John Lewis opened its online Christmas shop exactly 4 months until Christmas Eve, which was earlier than the year before where they didn't open until September, could we see the same again this year? we're crossing our fingers for an August announcement.