'Get ready to unwrap delicious and mouthwatering festive food as Tesco unveils this year's Christmas range which will leave you jingling with joy!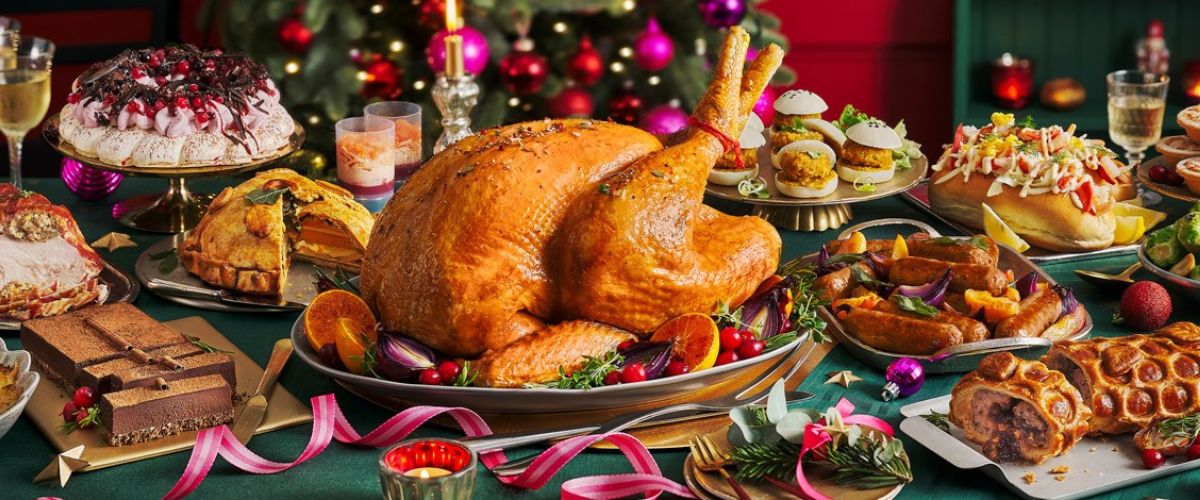 From show-stopping centerpieces to mouth-watering desserts, it's that time of the year again when we all feel (and hear!) our stomach rumble as major UK supermarkets announce what will hit their shelves this Winter.
And, Tesco sleighs the competition, first to unveil their festive feast, which will be in store and online later in the year and we can't wait to try in our annual Christmas Taste Test & share our favourites.
So what can you expect from Tesco this Christmas?, well think brand new Pigs in Blankets Topped Steak Pie and a Plant Chef 9 Stuffing Roll Selection, why do we have to wait?!
Below we've rounded up a few key highlights from Tesco 2023 Christmas food, drink and decoration offerings.
Tesco Finest Salmon, Pomegranate & Prosecco Starters £5
If you're already wondering (like us) what you will put on your Christmas dinner menu then Tesco has something for everyone, from a creamy Tesco Finest Extra Mature Sprout Gratin (7.50) to a sharing seafood medley (£22) and Winter Citrus Spiced Ham Joint (£17) your guest are sure to be left feeling super impressed.
Tesco's delectable plant-based delights are also something to behold and with a host of new dishes, you will never be short of WOW moments when it comes to the main event. Our highlights include this Tesco Plant Chef No-Turkey Crown with Herb & Onion Stuffing for £5.
And this Mushroom & Chestnut Festive Wreath.
We can't say it enough dessert – it's everyone's favourite course! This Christmas, Tesco has delighted taste buds with indulgence, ticking all the boxes! from the £17 Chocolate Log Cake which has made us droll over all day long that is packed with chocolate-flavoured buttercream, covered in milk chocolate and finished with a milk chocolate ganache and icing sugar dusting.
Feeling a more citrus vibe? then check out this show-stopper Winter Orange Cheesecake.
No table is complete without a novelty cake or two and hands down we've got to say we love this little chap: Tesco Smash Nose Snowman Cheesecake which has a fun 'smash nose' top with hidden chocolate stars inside.
Plus move over Colin and Cuthbert the caterpillar drama is over as Tesco introduces Snowman Swiss Roll and he looks delectable.
Everyone loves a mince pie at Christmas it's just a fact, and those who adore the fruity pie will fall head over heels for Tesco's Finest Golden Mince Pie which is made with a shortcrust pastry with muscovado sugar for a richer flavour, filled with a luxurious spiced mincemeat with apple and calvados.
When it comes to throwing your festive shin-dig more is always more and this year Tesco has dressed up some old-fashioned favourites including these seriously good-looking 12 Mini Vol au Vents Selection with Scottish smoked salmon or shallots with rich, creamy cheese.
Looking for canapés that really impress we think these 10 Smoked Salmon & Cracked Black Pepper Shells and 6 Steamed Duck and Orange Buns will do the trick.
Now the cheeseboard – everyone's masterpiece when creating should be overflowing with an abundance of festive inspired cheeses and Tesco's Smoked Red Leicester Bite with Chilli Jam Bake should take centerstage.
Got a sweet tooth then how about trying the Sticky Toffee Cheddar Truckle, yup sticky toffee cheese!
As for decorating your home for Christmas, this year the UK retailer has revealed its four dedicated design trends for the festive season: Traditional, Bright, Luxury and Frosty where you can purchase a host of dinnerware, bedding, cushions and throws.
Tesco Director of Product Development, Breige Donaghy, said: "Christmas is on the horizon, and for many that means one thing: festive feasting. Christmas is made up of so many important foodie moments, from the first mince pie and mulled wine, right through to the main event – Christmas dinner itself.
"Here at Tesco, Christmas 2023 started last year and our team of food experts have been hard at work developing, sourcing and trialling hundreds of fabulous products to make those special moments even more magical. We are delighted to finally unveil some of our favourite pieces to the nation.
"From family classics to new innovations, we have options to suit all tastes and all budgets; we can't wait to hear what people think."
These are just a few highlights from the new Tesco 2023 Christmas food and drink range, and we can bet your stomachs are rumbling now, we know ours are.