Cadbury has unveiled its Christmas 2019 range, including NEW Gingerbread Cadbury Dairy Milk Bar, an Angry Birds advent AND Darkmilk selection box.
A chocolate lovers dream….
Giving the taste of Christmas to someone special this year, Cadbury has revealed a host of new products, and old favourite to spread good tidings for the festive season.
Let's take a look at the new 2019 line-up below.
We earn a commission for products purchase through some links in this article.
Shop Cadbury Christmas range: AMAZON
Fans of Angry Birds will be flocking to the new advent calendar (RRP: £9.99). Complete with 5x Angry Bird toys and stickers alongside delicious milk chunks, counting down the days has just got a whole lot more fun. Plus new Angry Bird plush toys (RRP: £5.99) will also come packing a generous selection of chocolate.
Nothing tastes more like the festive season than a little bit of spice, which is why Cadbury has launched its new Dairy Milk Bar with gingerbread pieces, however you may have to buy in bulk as this is a Limited Edition bar and will cost £1.49.
The newness doesn't sop there, as a Cadbury 3D Workshop advent, Bournville Retro Selection Box and our top pick the Darkmilk selection box will also be able to purchase, we're seriously going to need our stretchy jeans on for this lot!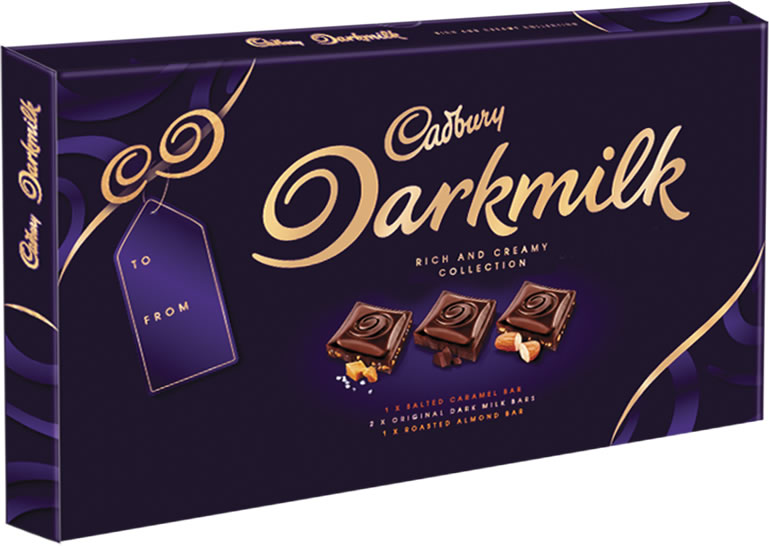 No big day would be the same without passing around the sweet tin or tub, and this year Roses have been given another new fresh look as Olivia Burton creates the stunning 800g (£9.99) tin design.
This year, choose from a limited edition 20th birthday Heroes tin (RRP £9.99, 800g), the classic tub (RRP £8.09, 600g) pouch (RRP £6.29, 400g) and carton formats – 185g (RRP £3.09), 290g (RRP £4.59) and 385g (RRP £5.99).
As for stocking fillers, secret Santa or just a little something for yourself, you can choose from Dairy Milk Orange Snowman RRP: (£0.65), Milk Chocolate Little Robbins WITH Daim (RRP: £1.49), Freddo Selection Box and Dairy milk Classic pouch (RRP: £6.29) which will containing an iconic selection from the Cadbury Dairy Milk range, these won't last long here.
Last years popular Retro Selection box is back (RRP: £5.95) along side the Vintage Chocolate bar (RRP: £9.99), these didn't see Christmas Eve for us, however were enjoyed for breakfast, lunch AND dinner!
Other highlights include Cadbury Heroes Christmas Cracker, mini Fudge & Milk Button tubes (RRP £1.42) plus the nations favourite since 1915 – The Milk Tray box (RRP £12.99).
The collection will be available to BUY at all major UK stores from September.
We're not sharing this year.