JING Medium Green Tea Explorer Set is packed full of different flavours of tea and has a one cup tea-iere to make the perfect cup of tea. Elaine was delighted to be give the medium green tea explorer set to try, we were kindly sent this to review, here's what she had to say.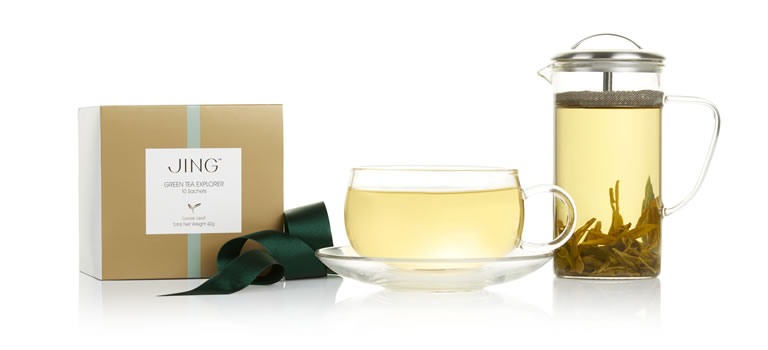 The three products included a glass teacup & saucer, a one cup tea-iere and a box containing:
2 sachets of Dragon Well Tea, which gives a Floral, Nutty & Creamy taste.
2 sachets of Organic Jade Sword Green Tea, which has a Grassy, Spring-fresh & Reviving flavour.
2 sachets of Sencha Green Tea with hints of Verdant, it is both smooth and satisfying.
2 sachets of Genmaicha, which is very popular in Japan and gives a Mellow, Toasted and Warming taste.
2 sachets of Jasmine Pearls which has a Sweet, Floral and Enticing taste.
"When I opened the box I was most impressed with the glass tea cup and saucer which is not only perfect for brewing a cup of tea, it also helps to make the experience a visual one.  So far as I can see there is just one problem, should your glass cup get broken there doesn't appear to be any individual replacements available, although you could purchase the signature, hand blown glass tea cup and saucer for £15.00.
The tea itself comes in individual sachets which i thought was a great idea as sometimes I'm not too sure how much to add in to the teapot. The first one I tried was the Dragon Well tea, so I opened up the sachet, added to the tea-iere and some boiling water and left to infuse for a minute or so and I have to say this tea was delicious. It was full of flavour and it was very refreshing, I could have drank this all day! Next up I gave the Jasmine Pearls which I think is my favourite one so far, it was sweet but also very refreshing and very smooth to drink."
Overall I was really impressed with the Jing Medium Green Tea Explorer set, I loved the box it came in and loved trying out the different flavours of tea included in the set."
The Jing one cup Tea-iere has a capacity of 250ml, is fridge and dishwasher safe up to 100.  The glass in the Tea-iere is hand blown which gives it both brightness and clarity. It has a capacity of 250ml, the ideal amount for a delicious cup of flavoured tea.
JING Medium Green Tea Explorer can be bought online for £42.50 here.
Please note we were kindly sent this but all thoughts are our own.