A bike is a great way to encourage kids outdoors and with this Apollo Police Patrol Bike, kids can do just that. We were kindly sent this to review, here's what John from our team thought.
John said: "I think we all remember getting our first bike, it's just so exciting and you can't wait to get on it and start trying to learn how to ride the bike. When I first saw the Apollo Police Patrol Bike I thought the design was brilliant,
it has a police officer on the front with a hand held out to signal 'Stop' and has 'Police Patrol' on the front and is blue, yellow and white in colour.
This bike has been built with a tough steel frame, removable stabilisers which I think is a brilliant way to learn how to ride a bike as you can use these until you feel confident enough and then when you are ready, you can remove them. There are also front & rear calliper brakes which are perfect for stopping and front and rear mudguards to help minimize the spray from puddles, which might help kids not get too muddy either.
There is also a full chainguard which will help prevent small fingers of loose clothing from getting caught which again is a great way to ensure kids safely. Another thing that I really liked about this Apollo Police Patrol bike is at the back there is a small toolbox on the bike which contains some play cones which again is a great way to fun play for kids.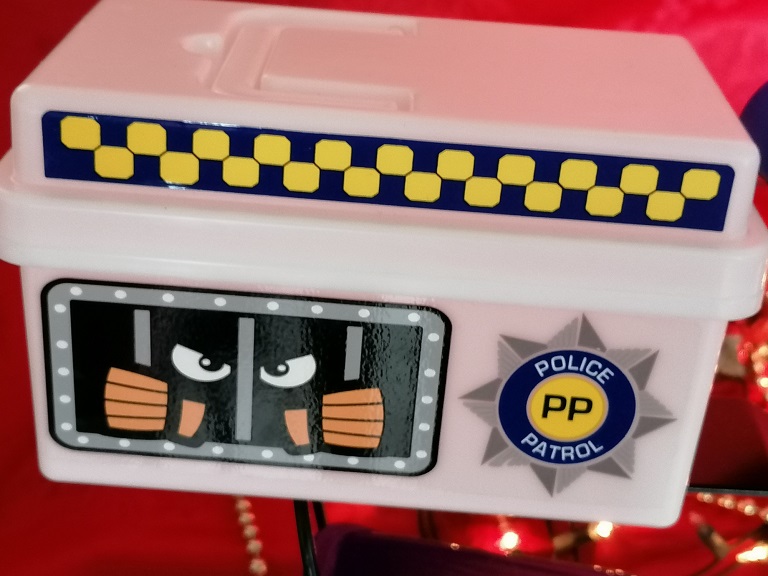 Overall I loved the design of the Apollo Police Patrol Bike, I thought it was fun and kids will love learning how to ride a bike. I also thought that the bike had all of the features and liked the fact that the stabilisers could be removed when ready. Kids will love this bike!"
Apollo Police Patrol Bike is suitable for ages 4-6 however please check Halfords for more information and is available to buy for £100 at Halfords.