Everyone's favourite coffee shop, Costa Coffee, has announced it's new Christmas menu and cups! Landing in store TOMORROW you can enjoy new options including NEW Billionaires Hot Chocolate.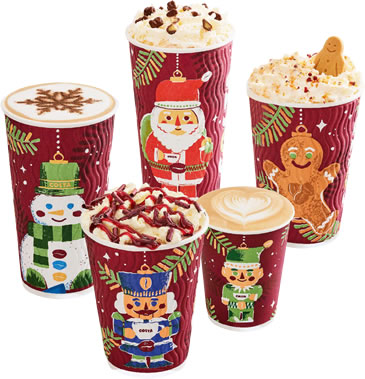 This year's Christmas cups will have five different festive designs to choose from. All will have red cups with either an elf, nutcracker, snowman, Santa or gingerbread man to choose from.
So what's in the new menu? This year we can expect to see a whole new range in there Christmas Menu. This year there will be Gingerbread and Creme Latte, Honeycomb Latte, Mint Hot Chocolate and a bigger and better than last year, rich and creamy Lindt Hot Chocolate.
Take a look at the full drinks menu below:
Drinks Menu
Billionaires Hot Chocolate NEW!
Billionaires Latte NEW!
Billionaires Latte Frostino NEW!
Black Forest Hot Chocolate
Black Forest Frostino NEW!
Gingerbread Latte
Honeycomb Latte
Salted Caramel Cappuccino
Mint Hot Chocolate
Lindt Hot Chocolate
Hot Spiced Apple
New savoury treats are also hitting the coffee shop this festive season with Festive Pigs in Blanket Panini, Creamy Brie, Smoked Bacon and Cranberry Panini while the Christmas Club Sandwich will be packed with festive favourite turkey, sausage, bacon, stuffing and cranberry sauce. Here's a look at the full menu below:
Savoury Menu
British Turkey Feast NEW!
Creamy Brie,Smoked Bacon & Cranberry Panini NEW!
Festive Pigs in Blankets Panini NEW!
British Turkey, Cranberry & Bacon Toastie NEW!
British Turkey & Bacon Club NEW!
Finally there will be a whole new range of Christmas sweet treats as well as some favourites. Chocolate & Hazelnut Rocker Cake, Rudolph Cake and Clementine Cream Drizzle cake all brand new for this year. Take a look at the full sweet treats menu below:
Sweet Treats Menu
Chocolate & Hazelnut Rocher Cake NEW!
Rudolph Cake NEW!
Black Forest Loaf Cake NEW!
Clementine Cream Drizzle NEW!
Nuts About Christmas NEW!
Amassador's Truffle NEW!
Dark Chocolate & Raspberry Decadence NEW!
Christmas Cake Slice (v)
Mince Tart (v) (gf) NEW!
We're going to be queuing up tomorrow morning for this new Christmas menu from Costa Coffee!