With Christmas weddings becoming increasingly more popular, we thought we'd put together a collection of festive ideas for a Christmas wedding.
Wedding Invitations
We earn a commission for products purchase through some links in this article.
Is there anything more exciting for the happy couple than watching the snow fall as they write the final sparkling invitations to family and friends and drop them into the post, or nicer still, make it even more personal by dropping round to personally hand out the wedding invitation.
SHOP WEDDING INVITATIONS: NOTONTHEHIGHSTREET
Wedding Dress

A wedding dress is invariably styled for much warmer weather, keep warm and still stay stylish by wrapping up in shawls, scarves, or a soft knitted bolero. Try to ensure that the colour of your gown goes seamlessly with the knit fabric of the bolero (try to find one that seamlessly matches the colour of the bride's dress) before heading outdoors for the wedding photos.
Many friends and family may well have forgotten to bring along a shawl etc with them, so try to arrange for a selection of wraps to be on hand.
SHOP WEDDING DRESSES: JOHN LEWIS & PARTNERS
Bridal Shoes
Choosing your wedding shoes is one the most important things to think about, after all you're probably going to be walking and dancing in them all day.
It is important to most brides that their winter wedding shoes should be comfortable and match their wedding dress. Fortunately there are lots to choose from – from sparkly sling backs, vintage high heels, flats, peep toe or vintage style lace up boots to name but a few.
The height of the heel is really important as is comfort, after all you're likely to be wearing them throughout your wedding day, so go for a heel that you're used to wearing.
SHOP WEDDING SHOES: JOHN LEWIS & PARTNERS
Confetti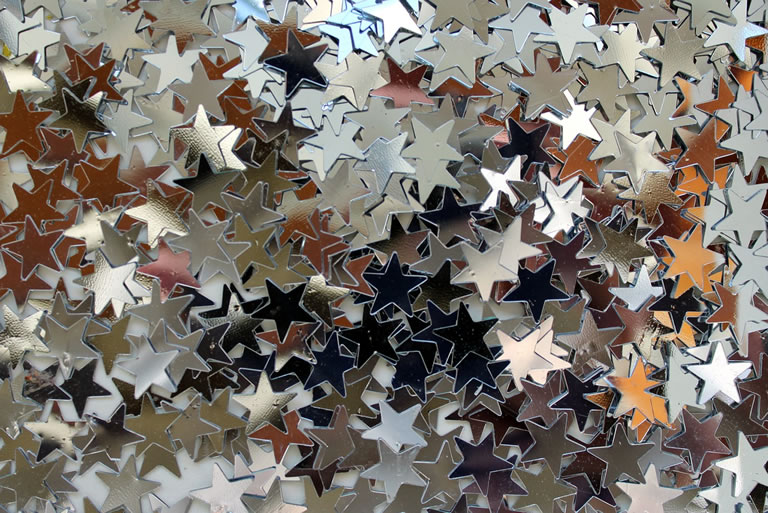 Hand pressed biodegradable Snowflake Confetti looks amazing and is available in a range of colours. A petal confetti mix is also available to suit every wedding colour scheme.
Dried flower petals makes wonderful confetti but as it's not biodegradable it can leave lots of confetti stuck to steps etc which must be removed.
Add a touch of festive cheer with a mix of gold and red petals giving a Christmas wedding feel and, should the snow begin to fall on the happy couple, these colours will create a great background for the wedding pictures.
SHOP CONFETTI: THE RANGE
Lighting
Fairy lights are relatively inexpensive (check out these ones from Amazon) but make such a big impact decoratively. Why not have fairy lights wrapped round tables? Get a clear Vase and pack some battery operated fairy lights inside, alongside some Christmas baubles to make some gorgeous centrepieces.
Aside from fairy lights, Candles are also inexpensive and effective. Flameless candles (like these) would look stunning lined down the aisle and at the area where you will marry. Having dim lighting really adds a wintry feel and will look gorgeous in photos.
SHOP LIGHTING: AMAZON UK
Christmas Trees
At this time of year, Christmas trees are cheap as chips. Why not buy a few pre-lit ones at varied sizes? Check your local Facebook pages or Charity Shops to see if any have been handed in for free or cheap. You can then use these as decorations at your wedding venue.
SHOP CHRISTMAS TREES: STUDIO.CO.UK
Frosted Pine Cones
Pine Cones are known for being Christmassy, so what better way to decorate than collecting some pine cones and using snow spray to create an inexpensive festive decoration for your upcoming nuptials?
SHOP PINE CONES: CRAFTSTASH
Pine Needles
With so many environmental risks associated with the use of single use plastic, we've come up with a great alternative to your usual plastic stuff (and it's free!) why not collect pine needles? You can find these anywhere you see a real Christmas Tree! Just look on the floor and you will find handfuls of fallen pine needles! Free and very festive.
Groom & Grooms Men
Keep the Groom and his grooms men all wrapped up with a warm and stylish tweed three piece suit, complement it with a white shirt and a coloured tie. To finish the look choose matching Chelsea boots or shoes.
SHOP MENS SUITS: JOHN LEWIS & PARTNERS
Christmas Wreath
Nothing looks more welcoming than a large colourful wreath (or wreaths) attached to your church door. When planning some finishing touches try to incorporate some of the colours from both the brides bouquet and the church door wreaths.
SHOP CHRISTMAS WREATHS: AMAZON UK
Wedding Tables
Adding red and gold to your festive wedding table will bring a touch of colour to wedding tables. Add in flowers to the centre of the table that match the bride's bouquet along with a Christmas themed arrangement.
Create a happy ambience by dropping the lights and lighting up the table(s) with white candles. Add in a selection of traditional Christmas greenery along with a range of festive decor ideas for the wedding lunch.
SHOP WEDDING TABLE DECORATIONS: AMAZON UK
Gift Boxes
Centrepieces and decor are some of the biggest expenses you will incur from your big day so DIY'ing some is a great idea. Why not get some wrapping paper in your weddings colour theme and wrap up some varying sized cardboard boxes? You could tie some big bows round them and weave some battery operated fairy lights through them to create inexpensive and impressive centrepieces.
SHOP WEDDING GIFT BOXES: AMAZON UK
Wedding Cake
Take time to shop around for your wedding cake, after all this will probably be the main focus point of the wedding reception and pictures of it will be snapped and looked at again and again.
When choosing your cake do take into account the number of guests that need to be served and the number of tiers that will be required, for example approximately 100 guests will require 3 or more tiers.
Alternatively you could make your own cake, you'll save money and if you're lucky a family member, a relative or a friend you trust, will decorate it for you.
Don't forget to get some small boxes that will hold a piece of wedding cake to take home.
SHOP WEDDING CAKES: WAITROSE & PARTNERS
Wedding Flowers
Considered to be a symbol of beauty, roses are seen as a sign of true love and are often chosen by a bride as her wedding bouquet.
With so many colours and styles to choose from you are sure to find the perfect flowers for your special day.
SHOP WEDDING FLOWERS: INTERFLORA
These are just a few hints and tips to have the perfect Christmas/Winter themed wedding.