Get ready for a whole lot of construction fun this Christmas as we review the Geomag Supercolour Panels Recycled 52 Magentic Piece Set.
We were kindly sent the Geomag 52 Magnetic piece set to review, below, Elaine shares her thoughts.
"Geomag designs pretty impressive stuff, and the new Supercolour Panels Recycled 52 Magentic Piece Set is no different plus what's even better it's made from 100% recycled plastic and the packaging is 61% recycled.
Let's quickly get into what you can expect inside the box: 16 spheres, 16 magnetic rods and 10 triangles, 8 square and 2 pentagon panels plus three storage boxes (total of 52 pieces) and is suitable for ages 5 to 99!
On opening, I was super delighted to see that the toys were well made, strong and vibrant, and I can see how this would help children develop and train their minds, imagination and curiosity for magnetics.
Getting started really was a piece of cake and pretty fun too! Starting by connecting a magnetic rod to a metal sphere, then connecting more rods to create unique shapes and finally using the plastic panels to hold it all together and decorate.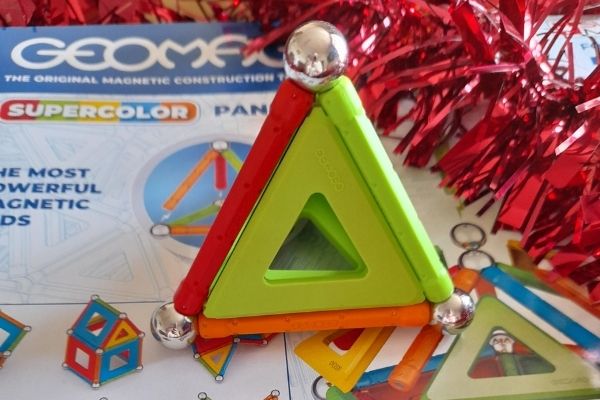 You make many designs (I personally wished for a few more) including 3D or even just 2D, like my poor attempt at a snowflake!
Overall, as a STEM toy, I think adults would too enjoy building up the panels and if you're searching for a toy to keep your little one busy whilst you prepare Christmas day dinner, you wouldn't get any better than this!"
You can buy the Geomag Supercolour Panels Recycled 52 Magentic Piece Set for £29.99 from many UK retailers including The Entertainer.