The team here at underthechristmastree love Christmas and this delicious Sweet and Spicy Christmas Tree Bread recipe from Sarah James at Tales From The Kitchen Shed certainly put everyone in the Christmas spirit.
We're sure it'll do the same for you and your family too!
This Christmas Tree Bread recipe is a wonderful treat to make for your family or friends over the festive season.
Sweet and Spicy Christmas Tree Bread
Ingredients: you can find these at Tesco.com
Sweet Dough:
600 g strong white bread flour
1 tablespoon instant yeast
3 tablespoons sugar
¼ teaspoon bicarbonate of soda
75 g softened butter or sunflower margarine
350 ml buttermilk (or half milk and half natural yoghurt)
110 g dried mixed fruit
2 tablespoons chopped marmalade
1 teaspoon Christmas Spice or mixed spice
Ingredients for Icing:
200 g icing sugar
2 to 3 tablespoons boiling water
Approx 20 glace cherries or your choice of decoration
Preheat oven: 400°F / 200°C / Gas Mark 6
Line: 1 large baking tray
Method for the dough:
Warm the buttermilk (or milk and yoghurt mixture) for 1 minute in a microwave on full power. The liquid temperature needs to be tepid to warm so as to encourage the yeast to start working – too much heat will kill the yeast. Gently warm liquid in a saucepan if you don't have a microwave.
If mixing and kneading your dough by hand:
Combine all the dough ingredients in a large bowl, stirring them together until they form a ball.
Knead by hand for 10 to 12 minutes.
If mixing and kneading your dough using a freestanding mixer fitted with a dough hook:
Add the dough ingredients into your mixer bowl.
Mix on slow speed number 1 for approximately 1 to 2 minutes then on speed number 2 for 8 to 10 minutes.
Your dough should be lovely and smooth and elastic.
THE WINDOW PANE TEST is a consistently reliable way to check your dough is ready. Pinch off a small piece of dough and gently stretch it apart, pulling and rotating the dough into a thin membrane, or window pane, which is translucent when you hold it up to the light.
Place your dough in a large greased mixing bowl and cover.
Leave to rest in a warm place for at least one and a half hours or until doubled in size.
Transfer the dough to a floured work surface and divide into 22 portions of approximately 55g to 60g each.
Shape 21 portions into balls and the last piece into an oblong for the tree trunk.
Place the dough balls onto the baking tray in the shape of the Christmas tree – see photos – with 6 dough balls on the first row and the tree trunk underneath at the centre.
Continue with 5 dough balls on the second and so on until you have a single dough ball at the top.
Leave no more than 2.5 cm (1 inch) between each dough ball and when risen they will touch each other, which maintains the Christmas tree shape.
Cover and leave to rise for about 45 minutes or until well risen.
Bake in the oven the 20 to 25 minutes until golden brown.
While you're Christmas tree bread is cooking make your icing.
Sift the icing sugar into a bowl, add 2 tablespoons of boiling water and mix. You want the icing to be quite thick and not too runny so you can get the snow effect.
You may need to add a touch more water but add a drop at a time.
Let your bread cool for about 10 minutes (it still wants to be warm) before you add the icing.
Prop up your cooling rack on one end so that the icing can drip a little.
Place about a teaspoonful of icing on the top of each bread ball and spread it to cover the tops.
I just used the teaspoon to spread the icing a little, see photos.
Place the cherries on your Christmas tree bread and leave to set.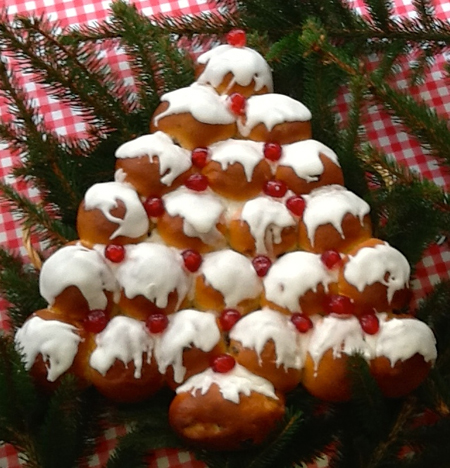 Looking just like a Christmas tree this Sweet and Spicy Christmas Tree  Bread would make a great centerpiece for any festive table.
Will you be giving this delicious festive recipe a try?  Get in touch and tell us about your results.