Jo Malone London highly anticipated Christmas advent calendar has arrived and this year's festive advent does not disappoint.
It's packed to the brim with aromatic delights!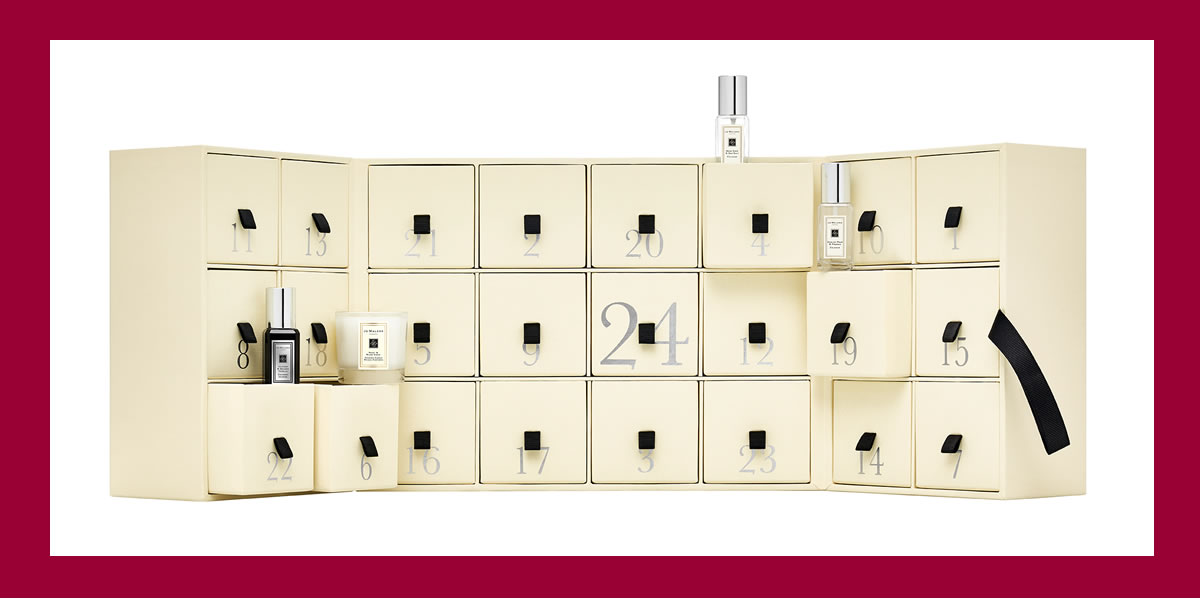 We earn a commission for products purchased through some links in this article.
SHOP: JO MALONE LONDON
Get ready as one of the hottest beauty advent calendars has arrived, yes, that's right! Jo Malon's iconic advent has been unveiled. Filled with 24 surprises including much-loved Colognes, travel-size Bath & Body and beautiful miniature Candles the advent calendar has a massive £320 worth sweet-smelling goodies crammed behind every door.
Plus, there's even am extra special "something" behind number 24 – who else will be opening this one first?!
There is a two-week preview at jomalone.co.uk from 1st October before a nationwide launch in all boutiques. However, if previous years are to go buy this is guaranteed to sell out quicker than Santa's grotto.
SPOILER ALERT: We have the full breakdown as to what is included in the advent calendar, do not scroll further down if you do not want to know.
1. Pine & Eucalyptus Miniature Candle
2. Honeysuckle & Davana Cologne 9ml
3. Wild Bluebell Body & Hand Wash 30ml
4. Wood Sage & Sea Salt Cologne 9ml
5. Myrrh & Tonka Cologne Intense 9ml
6. Peony & Blush Suede Miniature Candle 35g
7. Pomegranate Noir Cologne 9ml
8. Dark Amber & Ginger Lily Cologne Intense 9ml
9. Poppy & Barley Cologne 9ml
10. Blackberry & Bay Body Crème 50ml
11. Velvet Rose & Oud Cologne Intense 9ml
12. Wild Bluebell Cologne 9ml
13. Red Roses Body & Hand Wash 15ml
14. Oud & Bergamot Cologne Intense 9ml
15. Green Tomato Leaf Miniature Candle 35g
16. Lime Basil & Mandarin Cologne 9ml
17. Tuberose Angelica Cologne Intense 9ml
18. Lime Basil & Mandarin Hand Cream 15ml
19. English Pear & Freesia Cologne 9ml
20. Sweet Almond & Macaroon Miniature Candle 35g
21. Blackberry & Bay Cologne 9ml
22. Vetiver & Golden Vanilla Cologne Intense 9ml
23. Peony & Blush Suede Cologne 9ml
24. English Pear & Freesia Mini Soap 50g * plus additional surprise!
Fortnum and Mason recently revealed it's new beauty advent calendar as did Lush which will cost £185.