For 2020, John Lewis & Partners seven new trends focus on colour and creativity within art, here we speak to Junior Buyer, Jason Billings-Cray from the John Lewis Christmas shop all about this year's collections and what to expect from the advert.
Jason's already preparing for Christmas 2021!
Hi Jason, lovely to speak to you, the new collections are bursting with colour this year, how has the build-up to Christmas 2020 been for you?
I am new to team Christmas so the lead up to Christmas has been full-on, and a real labour of love! Joining the team in October 2019, my focus has been developing a brand new, exciting, and differentiated assortment. Lots of hard work goes into this development, so I'm excited to showcase Christmas 2020 at John Lewis, and bring a spark of joy to John Lewis Partners, and our customers!
This year has been VERY different due to the pandemic with social distancing and no travel, so how did you go about what this year's themes were to be?
The themes and direction for 2020 had already been decided and established before pandemic hit us and our lives were tipped upside down! However, the pandemic has given us a new perspective to the theme of Art Movements. During lockdown we have seen customers really seeing the value in creativity, crafting and artistic expression. All of this year's design themes have been inspired by the colour and creativity within art and the idea that art is for all. Christmas is a time for creativity, whether that means the time and effort put into preparing your home, or simply bringing friends and family together to make great memories.
We're holding you to ransom here, but which of the themes and decoration is your favourite and why?
Oh no! Like I said, being my first year in this exciting product area, and putting so much into it, the decorations and themes are like my children!
There are elements from all that I absolutely love, and will be replicating in my home, inside and out. My favourite overall theme would have to be Impressionism, I think it is beautifully classic and epitomises how the theme of Art can influence our colour stories. This traditional snowy theme has a new take, inspired by Impressionist understanding of colour and light, snow is not just white, but also pink, blue, green and lilac. Impressionism is a theme I can't wait to recreate in my home, as a new SECOND tree I need to make space for.
In these Eco-aware times, how is John Lewis adapting its Christmas Range?
This Christmas all of our cards are 100% recyclable as well as gift wrap, and our cracker range has no plastic in. As we have seen earlier in the year, we believe that customers will be reaching for pens and Christmas cards after a year of technology, embracing letter writing to friends and family again.
With colour and creativity at the heart of John Lewis themes, will you be adapting this to your own home decorations?
Impressionism is a new theme I will recreate in my home this year; for my other tree, this is full of decorations and baubles I have collected over the years. John Lewis provides edit and inspiration through our themes, but like many customers, I will be creative in creating something new and specific to me. This will be an 'anything goes' tree with a mix of traditional and contemporary, bold, colourful, old and new- My favourite animal is a Koala bear, so I definitely will be adding this character to my tree along with some others that bring me joy. I will love bringing them out every year and sparking the memories associated with them.
SHOP NOW John Lewis Post Impressionism Koala Bauble £12.00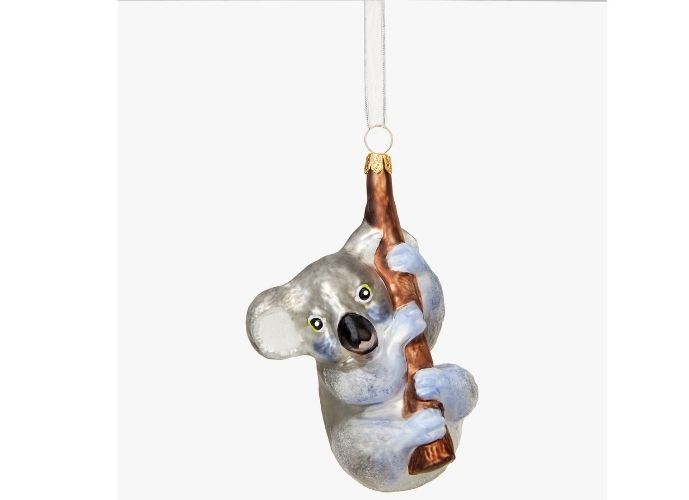 Are you working on next Christmas yet?
Yes, I am working on Christmas 2021, we started the beginning stages of Christmas 2021 back in March. Very Exciting to be looking ahead!
As always Jason, we're going to push – any clues about this years JL ad – we'll ensure you're on Santas nice list if you share?
As always we can't say anything on the ad but every year I get excited to see what it is!
As stated by John Lewis, Christmas is all about spending time with loved ones, so (finger crossed), we want to know – how will you be celebrating this year?
I too will be celebrating with loved ones, at home. Who knows HOW this will actually take place, but I'm sure it will be one to remember. This year we have definitely found the value in reaching out to loved ones in new ways and using more traditional means.
I'm already planning my Christmas Zoom corner for my video catch-ups, I'm thinking I need a wreath and garland backdrop for sure! So far we have seen a resurgence in our Christmas cards sales, the more traditional art of letter and card writing is on the rise. I will be taking time to write my cards and send to family and friends I may not see in person this year.
A huge thank-you to Jason for taking the time to talk to us and share all things Christmas at John Lewis, now we've just got to predict the John Lewis & Partners 2020 Christmas advert, and we've got some ideas already, which you can see here.
SHOP NOW John Lewis Christmas and the new collections.