Are you preparing for Christmas, if so you need to take a look at John Lewis top toys for Christmas 2019 predictions and this year it's all about wooden toys.
It's NEVER too soon to start planning!
We earn a commission for products purchase through some links in this article.
The end of August has arrived, kids are going back to school and the days are getting shorter and Christmas is now on the minds of most including John Lewis & Partners as it reveals what they think will be the most popular toys for your little ones this December.
This years predicted list includes a host of sustainable toys which could be passed down to younger generations. The retailer has seen a 21% increase in sales of wooden toys this year and is introducing fifteen wooden toys in time for Christmas.
Last year's JL top toys included NERF and Ricky the Trick Lovin' Pup and weren't released until August 30th making this the earliest the UK retailer announcing its list.
Harry Boughton, Toy Buyer, at John Lewis, said: "Parents are also telling us that they want to buy toys which encourage their children to spend more time playing with educational games and reading. We think the latest Osmo Little Genius Starter Kit and the Gravitrax XXL Starter Kit which teaches children about magnetics and gravity will prove particularly popular."
Below are John Lewis's top toy predictions for 2019:
BUY NOW

John Lewis & Partners 50-piece Wooden Train Set £30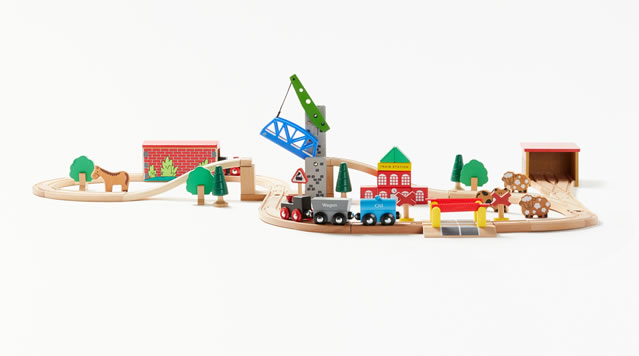 BUY HERE Osmo Little Genius Starter Kit £79.99
BUY HERE John Lewis & Partners Folding Scooter £69.99
BUY HERE Tonies Start Box £69.95
John Lewis & Partners Unicorn Pull-along £15
BUY NOW
Little Robin Red Vest Book £11.99
BUY NOW
Gravitrax Starter Set XXL £99.99
BUY NOW
LEGO Rocket Assembly & Transport Space Port £119.99
John Lewis & Partners Leckford Doll's House £100
BUY HERE John Lewis & Partners Mini Kitchen £35
So if you're thinking about Christmas gifts for the kids but want to keep it active, sustainable and more environmental friendly? John Lewis has you covered.
Unfortunately, you can only buy some of these toys just now however the majority won't be available in-store or online until autumn 2019.