OK, Christmas just got real! as Nestlé introduces seasonal favourites with Starbucks Toffee Nut Latte and Holiday Blend for you to enjoy at home!
We couldn't be happier!
Just when you thought that Starbucks holiday collection couldn't get any better, think again as Nestlé is introducing seasonal Starbucks coffees for you to enjoy from the comfort of your own home.
For the first time ever you can sit back, flick on a festive movie and relax with your favourite holiday coffee as Starbucks Toffee Nut Latte and Holiday Blend will be available online and from major supermarkets across the country from October.
There will be five seasonal additions in two festive flavours to carry you into the yuletide season: rich and creamy Toffee Nut Latte and Holiday Blend, a balanced and sweet coffee with herbal and maple notes:
· Starbucks Toffee Nut Latte by Nescafé Dolce Gusto
· Starbucks Toffee Nut Latte Premium Instant Coffee
· Starbucks Holiday Blend by Nespresso
· Starbucks Holiday Blend Roast & Ground
· Starbucks Holiday Blend Whole Bean.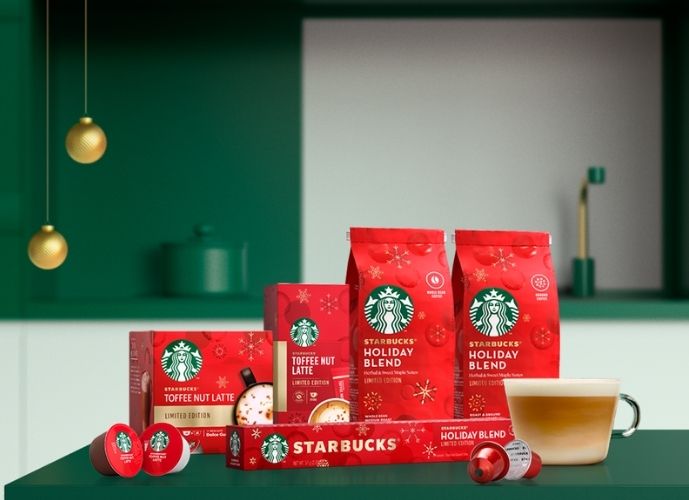 We earn a commission for products purchased through some of the links in this article
As you will expect, the new range will come in its very merry red packaging and will be available from Tesco, Sainsbury's, Asda and Morrisons.
Jane Aldridge, Managing Director of Beverages at Nestlé UK, said: "We are very excited to introduce the Starbucks festive coffees for home."
"This autumn and winter are going to be less familiar and more challenging for us all. So we are pleased to bring the seasonality of the coffee shop experience into our homes. And now that this range is broader, even more, Starbucks fans can enjoy their favourite festive coffees at home."
The limited edition seasonal Starbucks coffee range will start appearing from the beginning of October in Tesco and other major supermarkets.
We can't wait!