The Oclean X Pro Elite is the quietest toothbrush out. It is packed full of features and will have your teeth looking sparkling clean in no time. We were kindly sent the Oclean X Pro Elite to review, here's what Mandy from our team thought.
Mandy said: "When it comes to trying out new products to keep my teeth and gums healthy and looking at their best, I'm always ready to try new products, so when we were sent the Oclean X Pro Elite I couldn't wait to give it a try. When the Pro Elite electric toothbrush arrived in the office, I was impressed with the design, it looked very modern and sleek as it had a matte feel to it and was light to hold.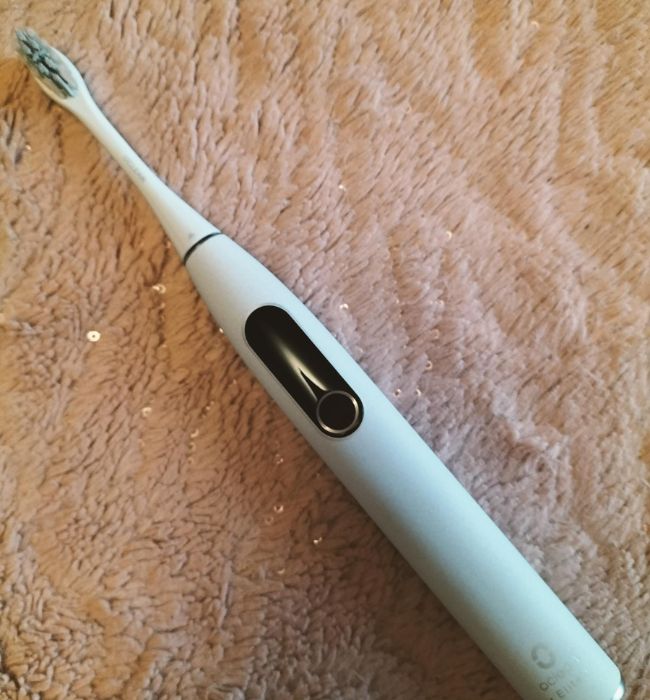 Oclean X Pro Elite, £79.90: SHOP NOW
Setting up the toothbrush was quick and easy, I gave this a charge which included putting the toothbrush on the charging base which is wireless onto a flat surface and connected the USB to a plug and it began charging up. Then once it was finished charging I removed the toothbrush from the base and simply pressed the "On" button, downloaded the app and followed the set-up instructions to get the app on my phone. This was done quickly and before I knew it the toothbrush was ready to use. I used the touchscreen on the toothbrush which was clear to read to decide which mode I needed, there were four different modes: Cleaning, Massage, Whitening and Sensitive and I could set how long I wanted to toothbrush to run and how intense I wanted it.
I sometimes get sensitive teeth so I used this setting and set my preferences and I could not believe how quiet the Oclean X Pro Elite was, it was so quiet and it really cleaned my teeth well. The sensitive setting was gentle and I felt like my mouth was clean and refreshed. I could even go on to the app to see how my brushing skills were including how long the brushing time was and more. I have only used this for a few days and the battery still doesn't need to be charged unlike some other electric toothbrushes, this one seems to hold its charge longer.
Overall I was really impressed with the Oclean X Pro Elite, it was so easy to set up, I loved the modern design, the touchscreen was a brilliant feature and the app gave an extra exciting element to it.
The Oclean X Pro Elite is available to buy online for £79.90 and has also been recommended in our gift guide.