Morrisons has unveiled its Christmas dishes for 2020 and it includes its first-ever 'The Best Vegan Trifle' and an immense amount of new tasty treats to enjoy.
The Best range just got better!…
We've already seen Aldi, Tesco, Asda and Waitrose festive ranges and now we've had a glimpse of what Morrisons' will be offering up for Christmas 2020 and it's as spectacular as you would think. From meat-free tasty alternatives to showstopping mains, here's everything you'll want to scoff on this year.
PARTY & SIDES
You may already be on the 3rd Christmas party of the week but tasty canapes and buffet food will never get dull with this colourful selection. Enjoy The Best Tempura King Prawns & Chilli Dip over a glass of fizz or tuck into these mini Steak & Ale & Chicken Pies.
Goose Fat Potatoes, Honey & Mustard Baby Parsnips and of course Pigs in Blankets (including a vegan alternative) will ensure you're plate is brimming with colourful sides.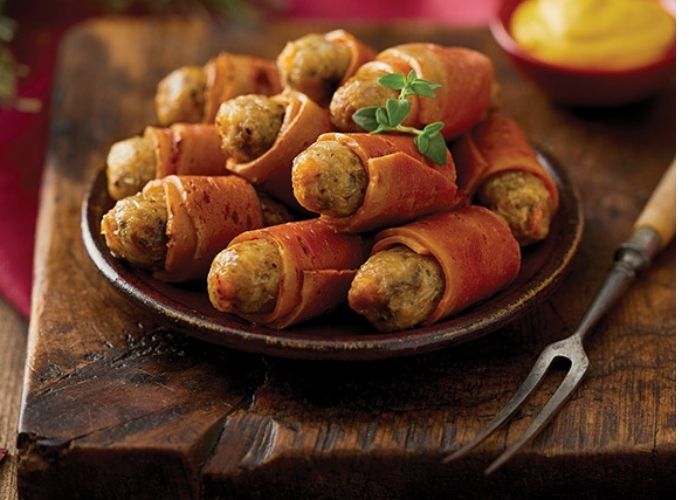 STARTERS
Start the main feast of the day stress-free as Morrisons offers a host of easy to prepare starters. Impress your guests with its Seafood Thermidor's or set an elegant tone with a slice of The Best Triple Smokes Tsar Cut Salmon with Soy Dressing.
MAINS
If you're looking to change your Christmas dinner up this year, look no further as the UK supermarket brings a variety of new dishes to choose from. In-store from the 19th December, you can enjoy the Best British Turkey Cushion – Turkey breast with pork and smoked bacon stuffing, wrapped in maple-cured streaky bacon and topped with a sticky maple glaze.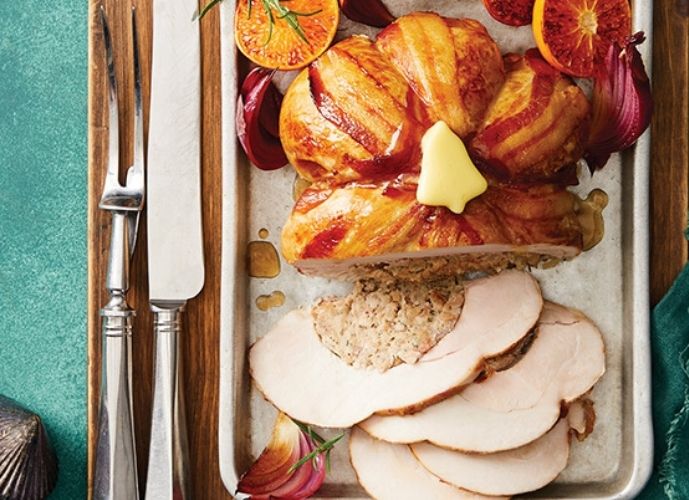 Or how about this Blackberry & Rum Glaze Joint?…
For vegans and vegetarians, the UK supermarket has gone all out this year. Suitable for Vegetarians are The Best Four-Cheese Melting Middle Nut Roasts which has a melting middle of brie, mozzarella, vintage cheddar and soft cheese.
Or our highlighted pick – The Best Beefless Wellington, hand-wrapped in cranberry, apricot and chestnut duxelle with a wholegrain mustard melt, encased in a crisp golden puff pastry and hand-topped with pastry leaves and will serve four.
DESSERTS & CHRISTMAS SPECIALITIES
Prepare to turn your meal into one of the sweetest yet with this collection of festive desserts. Choose (if you can!) from the Fudge Yule Log, a Morello Cherry Profiterol Bowl or our top pick – The Best Chocolate Orange Melt in the Middle Pudding, yeah, our table is going to have every single one of these on it.
The indulgence doesn't stop there, as Vegans will fall in love with its pudding choices, from gingerbread doughnuts, Vegan Lemon Shimmering Semifreddo to the grocery stores first ever Vegan trifle which even has a hand-finished golden shimmer on top.
The Best Christmas Pudding is back plus a Vegan alternative has also been added and Free From Maple Crumble Mince Pies will delight every taste buds.
CHEESEBOARD
Christmas-time – cheeseboard and wine! and just wait until you see this lot. Starting with the slate cheese board which ticks every box when it comes to the ultimate platter, containing 6 cheese including soft, hard and fruity selections, however, if you're really looking to go all-out the how about a Crumbly Wensleydale cheese with ribbons of salted caramel, yeah, we're NOT sharing.
We just want November to hurry the heck up now!